In January 2023 the Coromandel area was hit by two tropical cyclones in quick succession. Cyclone Hale on 10th January and Cyclone Gabrielle on the 12th of February. These two events accounted for 7 months worth of rainfall for the region. The roading network sustained significant damage. Many slips came down, blocking roads and in some cases sections of roads were entirely washed away.
The majority of the damage was cleaned up quickly and effectively. The area is now open and welcoming visitors back. There will be ongoing repairs to the worst affected parts of the roading network over the next 9 – 12 months (February 2023 to December 2023).
The beauty of the Coromandel Explorer itinerary is that it is fully flexible and tailorable to local conditions. There are many smaller, local roads that can be used to reach our destinations. If one road is closed, there is usually one or two other roads that we can use. We will simply stick to what is safe, open and accessible and prepare ourselves for the odd occasion where we have longer drive times due to road works.
Our Accommodation
Our accommodation in Coromandel township has not been affected. It is open and operating as normal. The Coromandel is home to a huge number of self-employed people who offer accommodation to holiday makers and the effects of the cyclone have been devastating for them. The average Coromandel business relies heavily on income from the month of January in order to sustain themselves through the winter and unfortunately, in 2023, this opportunity has been taken from them.
We feel a deep responsibility to support our local accommodation providers by continuing to market, promote and encourage visitation to the area as long as it's safe to do so. Naturally we want to continue to host hikers in the Coromandel and support as many local businesses to get back on their feet as we can.
Why Has This Cyclone Been So Destructive?
Most of the Coromandel roads we use today were constructed in the 1960's. They were designed to last a period of 50 years. They are long overdue for major repairs.
The geography of the Coromandel is unique and has contributed to the scale of the destruction. The spine of the peninsula is formed by a high, steep mountain range. The sides of the mountain range drop down sharply to meet the coastline. Imagine the Coromandel like a leaf. The mountain range is the central leaf vein with a series of radiating veins, or ridges and valleys, branching out sideways to meet the leaf edges. The majority of the Coromandel roading network follows the coastline, around the edges of the leaf. The roads have always been steep, at times unsealed, with sharp bends and twists. Only a few roads traverse the peninsula from east to west and these roads travel across the steepest, most rugged parts of the central peninsula.
When large amounts of rain fall, water very quickly accumulates high in the ranges and rushes out to the coast at great speeds. Water reaches the coast by way of the many valleys and tributaries, coming into contact with coastal roads as it reaches the ocean. On it's way down it brings with it rocks, trees, soil, gravel and a host of other debris.
The predominant soil type of the Coromandel is clay-based. This material allows local craftspeople to create beautiful pottery and sculpture, for which the Coromandel is famous, but when it meets significant rainfall it becomes like plasticine and slides off the bedrock and into our towns, through our homes and onto our roads.
Where Is The Damage Concentrated?
There are 4 routes linking the east and west coasts of the peninsula, they are; State Highway 25a (SH25a), the Tapu-Coroglen Road, the 309 Road and the State Highway 25 (SH25).
The worst affected section of road is State Highway 25a or SH25a, which runs on an east-west orientation linking Tairua on the east coast and Thames on the west coast. This is the road that many visitors from Auckland City use to access holiday homes and destinations on the popular east coast. A large section of this road washed away completely. A major rebuild is required and is expected to take 12 – 18 months. Engineers and authorities hope to have a design finalised by the end of April 2023 for work to begin shortly after that.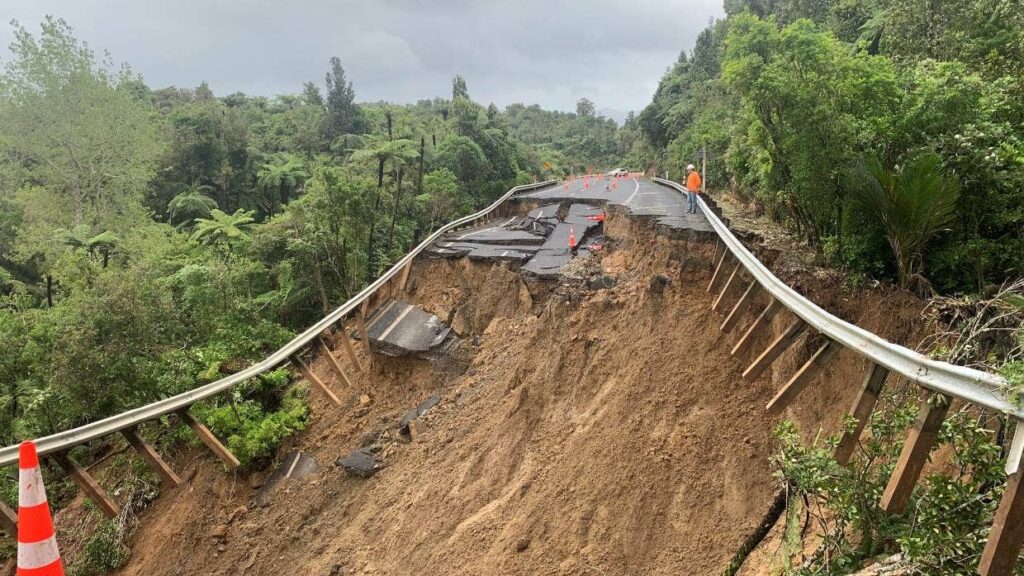 The Tapu-Coroglen road has been covered by a large landslide approximately 10km in from the western side. This road is currently closed (10 March 2023) with no formal information from authorities on a timeframe for repairs to begin.
The 309 Road links Coromandel township and Whitianga. This road is mostly gravel and has always been a rugged journey, gaining somewhat infamous notoriety for locals and visitors alike. At the time of publishing, this road is open but is under repair and down to one-lane traffic only, so delays at stop/go points are to be expected.
State Highway 25, which also links Coromandel township and Whitianga just further north of Coromandel town, is the remaining route that is used to travel from the west coast to the east coast. This route is now accommodating all of the east-west traffic that the SH25a and the Tapu-Coroglen road would normally share.
The western coast road that runs from Thames to Coromandel township is one of the best coastal roads in New Zealand with beautiful views out across the Firth of Thames and plenty of excellent bays and beaches to stop and have a swim. This road has also suffered multiple slips, but any damage to this road is quickly prioritised as it's a main arterial route for the supply of goods and services on the western side of the peninsula.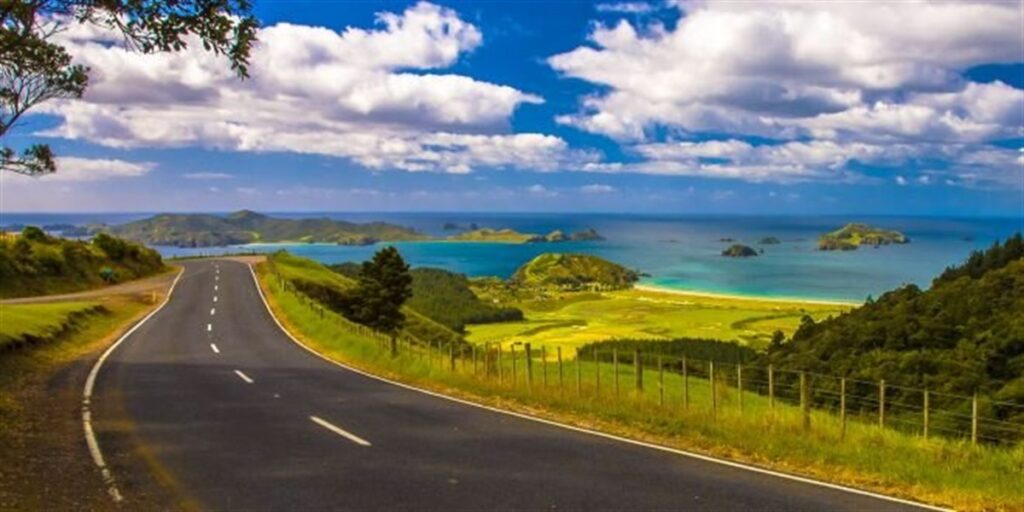 The very tip of the peninsula remains cut-off. North of Coromandel township up to Fletcher Bay will require ongoing roading repairs. There are many road slips and washouts north of Amodeo Bay. This means access to Fletcher Bay, Port Jackson and Stony Bay will be compromised for some time.
How Will This Affect The Coromandel Explorer Tour?
At this stage, we are able to complete the bulk of Days 1, 3 & 4 of the Coromandel Explorer tour as normal, but with some minor changes. We welcome our first post-cyclone guided hiking group on the 6th – 9th March 2023 and we enjoyed a very successful, safe hiking tour.
If anything should change in the coming weeks and months, you'll receive an email from our reservations team with further information and advice on the best way forward. There are a number of websites that you're able to monitor yourself, if you'd like to, just bear in mind that the best websites are those that belong to the local authorities who take great care to post only correct, up-to-date information, which can take longer to assemble and verify than some other websites.
Thames Coromandel District Council – for road updates concerning the District Council network only (not state highways)
Waka Kotahi – manages the state highway network nationwide
CFM Coromandel FM – local radio station roading status updates
Department of Conservation – Alerts page
The Coastal Walkway
Coastal Walkway Update: As of 9th August 2023, we are able to head up to Fletcher Bay and walk in from the northern end as far as the lookout, and back out the same way. We've done this many times on previous tours and it gives us an excellent day's walking, so as far as we're concerned it's business as usual!
We would normally walk the Coastal Walkway from Stony Bay to Fletcher Bay on Day 2 of the itinerary, but as the tip of the peninsula is currently inaccessible, we're not able to do this until repairs can be completed. Instead, we will complete alternative walks in accessible areas that will be less strenuous and more gentle in nature than the Coastal Walkway. The hiking trail network of the Coromandel is vast, there are plenty of alternatives we can visit instead.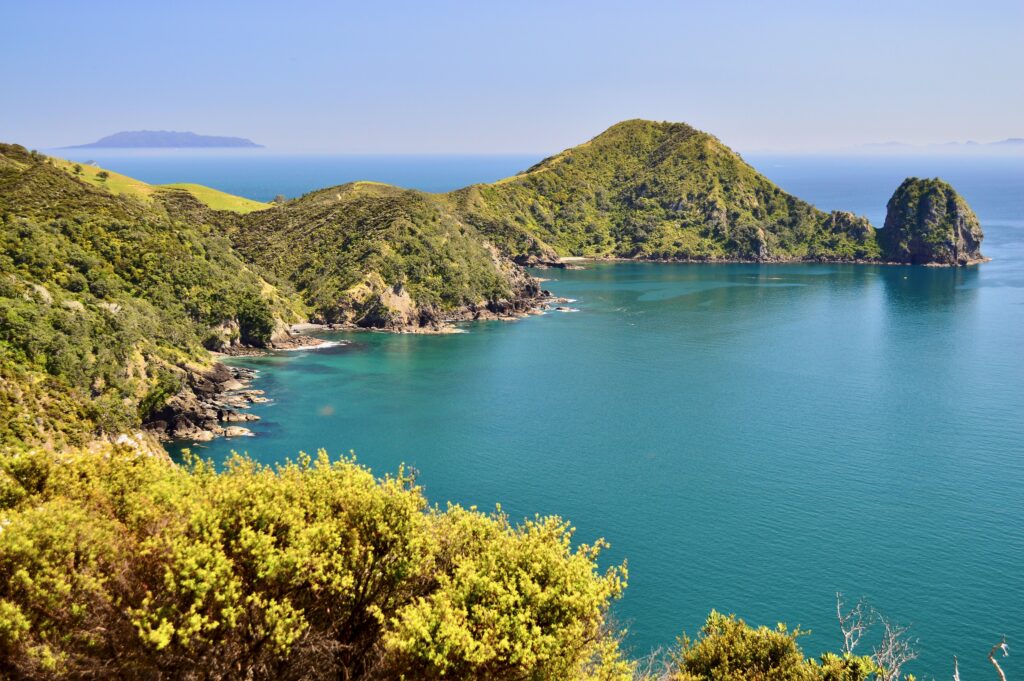 Cathedral Cove, Hahei
The Cathedral Cove Walk has been closed due to a number of slips on the track down to the cove and on the beach itself. We won't be able to access the cove on Day 4 as we normally would. There are two bays nearby that are equally as beautiful and a handful of short walks within a short driving distance that, weather permitting, would be a suitable alternative.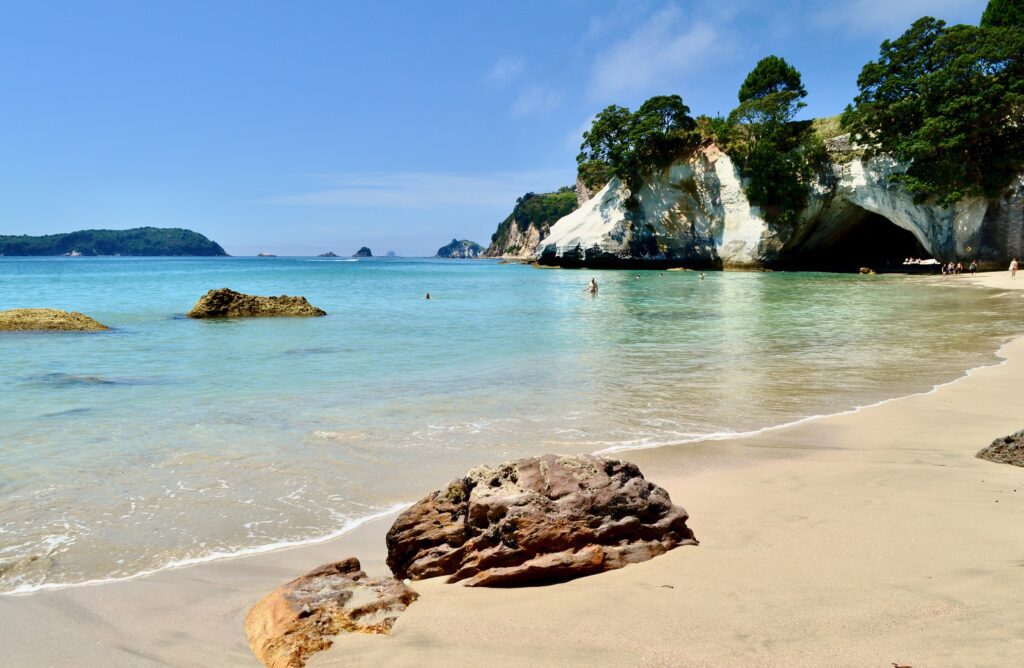 If further significant rain events occur, we will be paying close attention to information issued by authorities and adapting our plans to suit. Your safety is our top priority so we will stick to what is safe, open and accessible whilst still seeing and doing as much in the Coromandel as we can. If there are times where we're not able to access any hiking trails we can arrange for alternative activities, at no additional cost, to replace those. The Coromandel has been a major visitor destination for many, many years and there are a host of world-class attractions and activities available to us.
It's a good idea to be prepared for changes to the itinerary to work around any new challenges. We always work to minimise any travel delays and plan the days activities in an efficient and sensible manner. Every evening over dinner, your guide will give the group a thorough outline on what's planned for the following day. Our guides are local experts and can tailor the itinerary to each groups particular area of interest, aptitude and ability.
If you have any further questions, queries or problems, please contact one of our team on [email protected] or call 0800 WALK NZ (0800 925 569), or 1 800 646 584.