Most of our North Island guided walks depart from and return to Rotorua City. If you're joining us on the Coromandel Explorer guided walk, we also offer a pick up in Matamata township.
Because we like to get started early in the morning, usually around 8.00am – 8.30am, it's a good idea to arrive in Rotorua the day before departure and spend a night, if you can. If you'd like to spend a night before or after a trip with us in Rotorua there are lots of great places to choose from. We've put together our top list to give you a good place to start.
We can collect you from any accommodation in central Rotorua City, including these locations listed below. Of course you don't have to stay here, these are just our recommendations!
Near the Lakeshore
Here's our pick of places to stay at the northern end of Rotorua City, right near the southern shore of Lake Rotorua. This is the beating commercial heart of Rotorua City, close to all the important amenities and facilities, including boutique shopping and the main dining precinct of EAT Streat. You'll find hospitals, pharmacies, outdoor clothing stores and mountain bike rental stores all within easy walking distance.
The Novotel Lakeside Rotorua is a fantastically reliable hotel stay with what has to be the best breakfast buffet in Rotorua. They have on-site parking for private vehicles for $15 NZD per day. Located near the Village Green and Lakefront Playground and a short 2 minute walk from the lake shore.
Address: Lake end, 1115/1193 Tutanekai St, Rotorua
Phone: 0064 7 346  3888
Rating: 4-star Hotel
On-site Meals: Clarkes Bar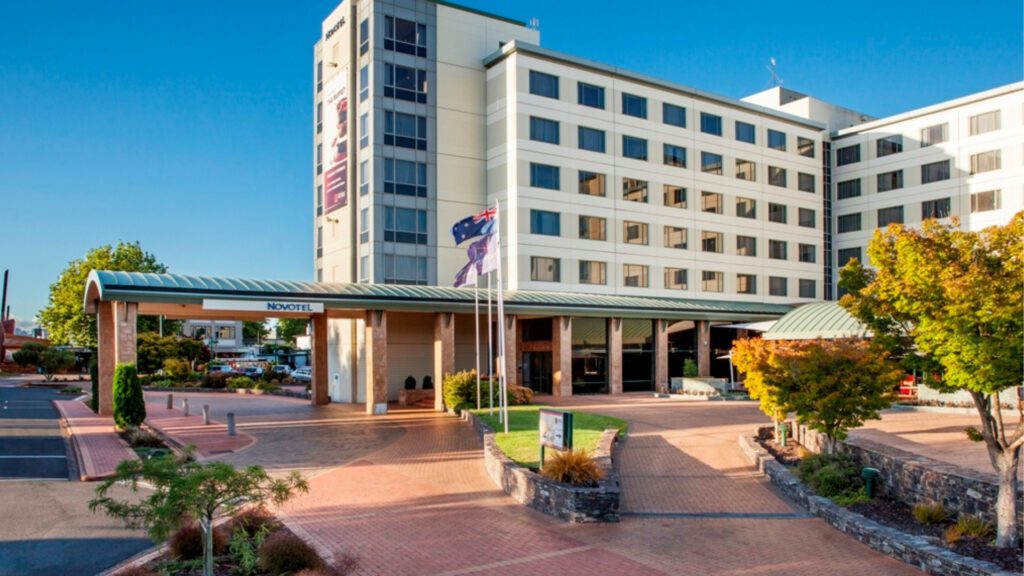 The Princes Gate Hotel building is an iconic Rotorua landmark. Originally built in 1897 in Waihi, the building was taken apart and transported to Rotorua by train and wagon to be reassembled on its' current site opposite the Government Gardens. It's got character, it's got charm and it's got a heated geothermal pool. If you love architecture and historical features, you'll love the Princes Gate Hotel. Try out the on-site restaurant, Dukes, or wander down the street to Rotorua's main dining precinct, EAT Streat.
There is on-site parking at the back of the hotel, but spaces are limited and only for standard sized vehicles. There is also a section of on-street, free parking along Hinemoa St, between Arawa and Pukaki Sts.
Address: 1057 Arawa St, Rotorua
Phone: 0064 7 348 1179
Rating: 4-star Hotel
On-site meals: Dukes Restaurant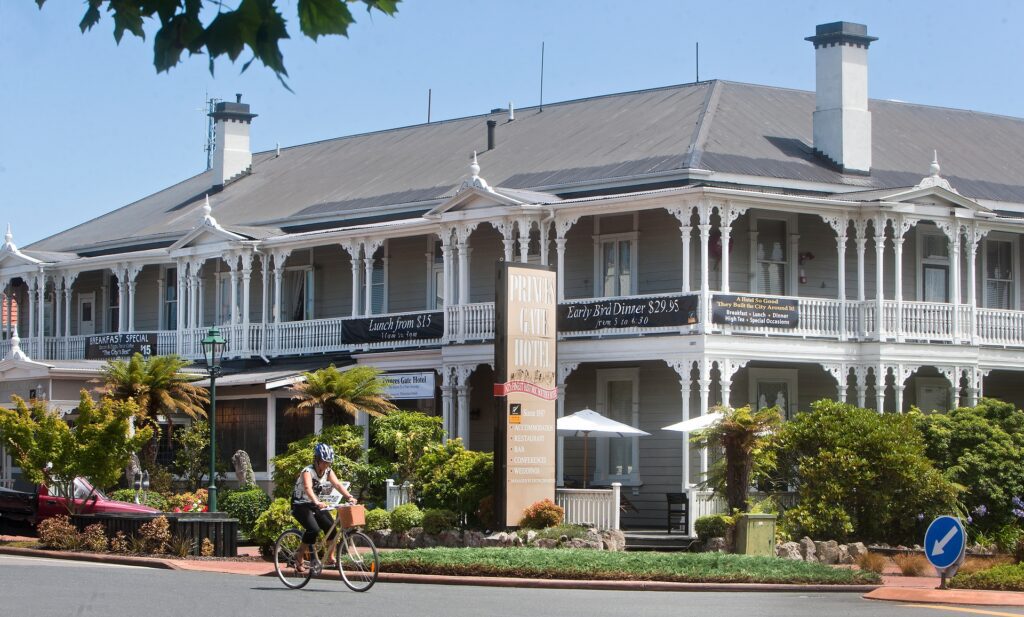 Aura Accommodation is an absolute hospitality champion as far as environmental impact and sustainability goes. They are on a mission to reduce waste and mitigate carbon emissions while providing clean, comfortable, practical accommodation close to the lakeshore.
Address: 1078 Whakauae St, Rotorua
Phone: 0064 7 348 8134
Rating: 3-star hotel
On-site meals:  No, but they have barbecue facilities and a steam-box for cooking meals using geothermal steam.

Southern End of Town
Here are a few options at the southern end of town, closer to the mountain biking heart of Rotorua and the geothermal centre of Te Puia, the famous geyser and Maori cultural complex. This accommodation cluster is further away from supermarkets, cafes and restaurants so it's great option if you've got a rental car or a private vehicle to get around, or if you don't mind a longer walk of around 20 minutes or so.
Sport of Kings Motel is tucked away in a quiet side street off Fenton St, near the southern end of town. The welcome is always warm and inviting and you'll feel right at home. Some rooms have hot thermal spa pools. They offer some off-street parks for guests, but the bulk of parking is on-street, right out front. If you'd like to leave your car with them while you're out on the trails with us, they're happy to watch over your vehicle.
Address: 6 Peace St, Rotorua
Phone: 0064 7 348 2135
Rating: 5-star Motel
On-site meals: No, but self-catering facilities are available in most rooms. Supermarkets are located 1.5km or a 20 minute walk away, so best if you've got a private vehicle.
Located close to Whakarewarewa, the geothermal field at the southern end of Rotorua City, the Rotorua Thermal Holiday Park is a relaxed, informal camping ground with a selection of campervan sites, tent sites, self-contained motel units and basic cabins. Nightly rates are economical and budget-friendly, leaving you extra holiday funds for some of the many thrilling activities in and around Rotorua City.
A geothermal hot pool is available for soaking those sore muscles after a long days walking.
Address: 463 Old Taupō Road, Rotorua
Phone: 0064 7 348 3140
Rating: 3-star campground
On-site meals: No, but some rooms have kitchenette facilities for self-catering and there is a communal kitchen space and dining/lounge area. Supermarkets are at least 1.7km or a 20 minute walk away, but across the Hemo Gorge roundabout near Te Puia is Wheelhouse Coffee Shop, part of the Mountain Bike Rotorua headquarters.

So that's your bed for the night sorted! What's next? Right, food! For our local recommendations on the best cafes and restaurants to visit in Rotorua City, see our handy guide 'Best Place To Eat In Rotorua.'
If you've got further questions regarding pre or post-tour accommodation in Rotorua City, just get in touch with our friendly team on 0800 925 569 (WALK NZ) or 1 800 646 584 (AUS Freephone) or for international callers 0064 7 533 3157.