Check Dates for TARANAKI DISCOVERY TOUR
Experience the powerful cinematic landscapes and iron sand beaches of the Taranaki region on this all-inclusive New Zealand guided walking holiday.
Refresh yourself in primordial 'goblin' rainforest in the foothills of New Zealand's most photogenic mountain peak, the mighty Taranaki Mounga (mountain). Hike Taranaki's best tracks with the comfort and support of a guide-led group.
Join a small, fun group and professional hiking guide
4 day / 3 night all-inclusive New Zealand hiking tour experience
4-7 hours hiking each day over varied terrain on formed trails
Boutique ensuite accommodation in stunning setting
Carry a day pack only, no heavy packs!
Includes: delicious meals, snacks and drinks; return Rotorua transport; ensuite accommodation; experienced and caring guides; complimentary hire of hiking day-gear on request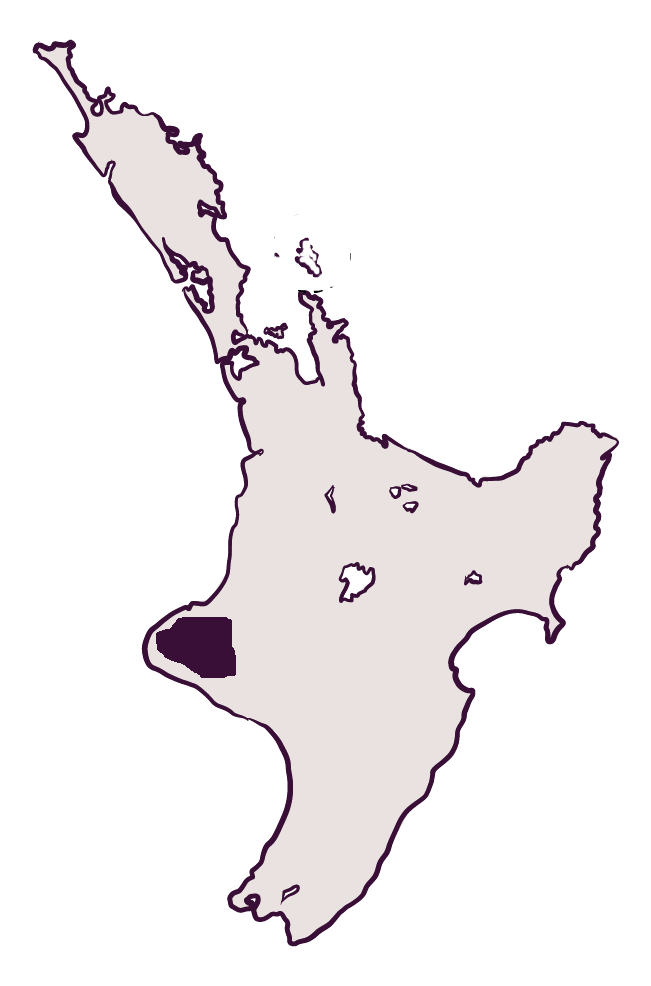 "I'd wanted to get to Taranaki for so long but I just wasn't comfortable going it alone. I'm so pleased I finally stopped waiting and just DID it!"
SUE, TARANAKI DISCOVERY TOUR
Soak up the cinematic landscapes of Taranaki from the forest foothills of mighty Taranaki mounga (mountain)
Rotorua to Egmont National Park
We'll pick you up from central Rotorua City or the Rotorua Airport between 8.00am and 8.30am, before heading south-west alongside the Waikato River and into the heart of the North Island's mighty King Country. We'll skirt around the forested fringes of the Pureora Forest Park, warm up our legs on a short loop trail, and walk part of the epic Timber Trail cycleway.
The Pureora Forest Park is a significant environmental area and a habitat for rare, native bats. The type of forest at Pureora is old-growth podocarp, of which there is only a very small percentage left globally. You'll experience a section of forest that has remained untouched for more than 2,000 years, a taste of what primordial New Zealand was like. Huge tōtara trees dominate the canopy, hosting a plethora of fragile ecosystems and providing a home for native birdlife like the kōkako, kākāriki (green forest parrot) and kākā (brown forest parrot).
Our journey southwards takes us down the scenic western coast of the North Island, with amazing views of the Tasman Sea, to the picturesque seaside town of New Plymouth. We'll get our first taste of the topography and natural character of the Taranaki area with a short 30-minute jaunt to the Lake Mangamahoe Reserve to a spectacular viewpoint to see the skyline of Mt. Taranaki and the Pouakai Crossing. After settling into our cozy lodgings, we'll share a hearty, 2-course Kiwi-style meal and a cold glass of something to toast the beginning of our Taranaki adventure as we watch the sun set from the ridgetop restaurant terrace. Put your feet up and prepare for exciting adventures that await us tomorrow!

The Pouakai Crossing
This morning we'll set off on one of New Zealand's greatest one-day hikes, the Pouakai Crossing. This trail leads us through an incredible variety of landscapes – ferny 'goblin' forest, fragile wetlands, subalpine scrub and reflective tarns mirroring the stunning peak of Mt. Taranaki.
On a clear day we'll be treated to north-east views across to Mt Ruapehu and the central plateau of the North Island. Pouakai Tarns offers the most magical view of Mt. Taranaki, one of the most spectacular views in the whole country. Under the right conditions, and this is crucial, the mountain is perfectly reflected in the water, creating a scene so magical that it's hard to believe it's real.
Fair weather and a good level of fitness are required to undertake this hike as sections are steep, exposed and challenging. The track is generally well-formed underfoot, water crossings are bridged and wetlands are traversed via a network of timber boardwalks. Care is required when crossing the loose ground on the face of Boomerang Slip, a good sense of balance will stand you in good stead here.
From the Mangorei Road trailend, we'll return to our lodgings where you can revive your weary muscles with a hot shower, before meeting in the cozy lounge for pre-dinner drinks and nibbles. Tonight we share a delicious 2-course meal in the lodge's onsite restaurant overlooking the gorgeous grounds and raise a toast to an unforgettable day on Taranaki Mounga.
South Eastern Slopes
Today we travel around the south-eastern side of Mt Taranaki to experience a different perspective of the Egmont National Park. We get started with a gentle 1 hour hike through native kamahi forest into Dawson Falls, an 18-metre high single-drop cascade feeding New Zealand's oldest continuously operating hydro-electric power generator and likely one of the oldest in the world!
We'll visit Wilkies Pool, via a 2km loop-track through 'goblin-forest' dripping in ferns and moss to a series of clear pools formed from 20,000 year old lava flows. The first section of this track is very easy-going, gradually becoming more challenging as we cross Kapuni Stream.
To finish things off we'll visit the York Road Loop track, a fascinating 5.3km loop trail steeped in history. Fueling the birth of a region, the York Road area was an integral cog in the development of the Taranaki settlement. History buffs and amateur archaeologists will love the well-preserved remnants of pioneering activity on this fascinating trail, including a huge concrete bath sand trap and a long fern-walled canyon, hand cut for railway wagon access.
Tonight we enjoy our final celebration dinner, glasses raised, to cap off an excellent walking adventure.
Puke Ariki & the Coastal Walkway to Te Rewa Rewa Bridge
After a final hearty breakfast, we pack up our kit and farewell the majestic Taranaki Mounga. We couldn't depart New Plymouth without a brief visit to the heart of the township, Puke Ariki Museum. The museum holds a wealth of historic artefacts and precious carvings unique to the Taranaki people and this is a chance to cement your Taranaki memories for the journey homeward.
On our way out of the Egmont National Park, we'll finish things off with a rejuvenating gentle walk along the famous Coastal Walkway. This wide, shared pathway clings to the edge of the township, bordering the tempestuous Tasman Sea. Beginning at the iconic Len Lye kinetic sculpture, a 45m fibreglass tube known as the ' Wind Wand' we'll make our way along the pathway, soaking up wide uninterrupted views of the open ocean, to reach the 83m long, beautifully sculptural Te Rewa Rewa Bridge. This is an important point of genealogy for Taranaki Māori. We'll enjoy our final picnic lunch near the Waiwhakaiho River before setting out for home.
We'll have you safely back in Rotorua around 5–6pm to meet your onward travel arrangements
On the Taranaki Discovery Tour, we'll spend 3 nights at a boutique location on the outskirts of New Plymouth. Set on a lush hilltop, rooms look out over a peaceful valley traced by a meandering river. The beautifully manicured grounds are spacious and inviting. 
There are double and twin rooms with ensuite bathroom facilities*. Single supplement is available for an additional fee for those solo travelers who would like a room to themselves. Rooms are large and generously proportioned with ensuite bathrooms, heating, airconditioning, kitchenettes, televisions and big comfortable beds. There are plenty of power points next to the beds so CPAP machines can be accommodated.
There is an onsite restaurant and bar where we'll share our meals. All meals, snacks and nibbles are included. The lodge has credit card or EFTPOS facilities if you wish to purchase additional drinks with dinner.
*Some rooms can sleep more than 2 guests and family rooms can be arranged, subject to availability. If you have any questions, please get in touch with our friendly reservations team.
We supply
Generous, nutritious meals full of fresh, local produce; hearty cooked breakfasts, fresh packed picnic lunches with the best sandwiches you've ever eaten, plenty of trail snacks & medicinal chocolate; fresh fruit, hot & cold drinks.
Return transport from Rotorua in air-conditioned vehicles with enclosed luggage trailers.
Toilet paper, soap & hand sanitiser.
Fitted single sheets for hut mattresses.
What else do you need to know?
Our Menu: We have a pre-set menu for our evening meals. Everything is freshly prepared in the hut kitchens by your guides. Evening meals are 2-course, Kiwi style, with plenty of fresh veggies and salads. 
Specialty diets; we can cater for a wide range of food allergies and specialty diets with sufficient advance notice. Please let us know at the time of booking if you have a specific dietary needs.
There are no drying rooms available in the huts, but there are plenty of wide, covered verandahs for drying wet gear.
Sorry, the use of drones is not permitted.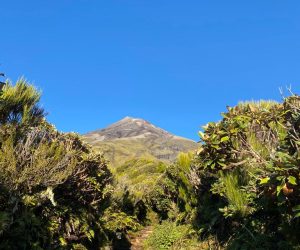 Weather Conditions and Itinerary Changes
The Egmont National Park is a unique and changeable…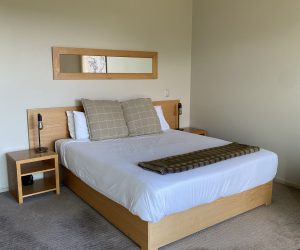 I'm Travelling Solo – Who Will I Be Sharing a Room With?
We welcome solo walkers! Accommodation on the Taranaki Discovery…