Check Dates for Great Barrier Island Escape
Great Barrier Island (Aotea) is a place of remote beauty and rugged wilderness, with a distinctive Kiwi flavour. With just 900 residents, it is one of the most tranquil and laid-back places you'll find in the South Pacific. The warm salty breeze mingled with the rich forest air makes every breath a pleasure, while it's winding trails through volcanic peaks, native forests, golden beaches and crystal-clear waters ensure your daily quota of exercise and adventure. On Great Barrier Island, Nature is King.
4 days / 3 nights all-inclusive* New Zealand walking holiday
4-7 hours hiking each day over varied terrain
Carry a day pack only
Includes: meals, snacks and wine; 3.5 star boutique lodge accommodation; all transport on the island; raincoats & day packs; experienced guides
Join a small group, or have an exclusive trip for your own group*
Only a 30 minute scenic flight from Auckland; *return flights are additional and are not included in the walk price. (We can book flights for you, this is part of our reservation service at no extra cost to you)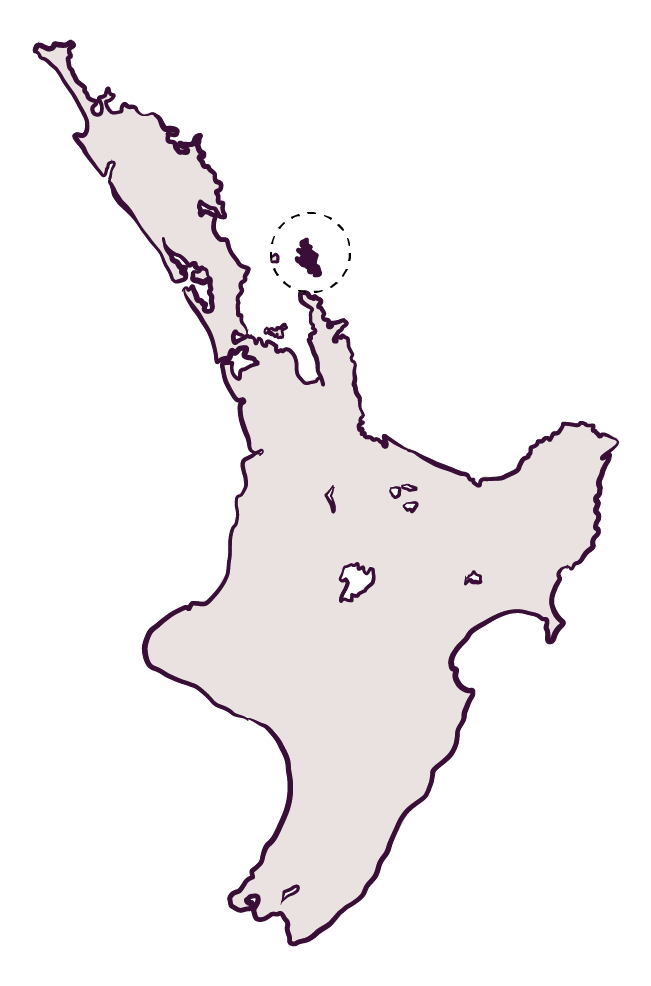 "I loved every minute of the trip, walks fantastic, food fantastic, and our leader and hosts could not have been better. We were really, thoroughly spoilt." 
VICKI, Great Barrier Island Escape
"WOW, WOW, WOW. Can't recommend Walking Legends enough!"
DAWN, Great Barrier Island Escape
An island where nature is king. Enter a place of remote beauty and rugged wilderness, with a distinctive Kiwi flavour.
Auckland to Great Barrier Island
Greet your Walking Legends guide at 10:30am at the Claris Airport, Great Barrier Island for an 11am start. Come dressed ready to start walking straight away, with a full water bottle. For information on getting to the island see below. First, we head west to Whangaparapara and warm ourselves up on the Te Ahumata/White Cliffs Track. We'll follow an old mining road through wind shorn, bonsai-like plants and hunt for rare orchids at the summit.
Te Ahumata's central location gives us a great viewing opportunity to orientate ourselves from the top of the white cliffs!
If the legs are still feeling fresh, we can walk along the stunning golden sands of Blind Bay or visit the old Tramline Track to see serene Kauri Falls and enjoy a refreshing dip in the small, but perfectly-formed natural swimming hole.
Then we'll get settled into our lodge, put our feet up with a cold glass of something on the deck overlooking Whangaparapara harbour and share a grazing platter of fresh fruits and cheeses as the sun goes down.
Our lodge hosts treat us to a delicious 2-course, Kiwi style meal using locally grown produce and home-made condiments.

We begin the best hiking trail on the island today with a stroll through the mossy ravines of 'Windy Canyon.' This is part of the Aotea Track and will lead us up to the summit of Mt Hobson/Hirakimata. This spectacular track is a combination of easy walking trails; short, steep climbs; stairways and bridges. We'll traverse a range of unique, biologically diverse landscapes; streams lined with beautiful native bush, peaceful wetlands full of rare birdlife, forests of kauri, rimu and kahikatea. Discover the historical remains of the early kauri-logging industry and witness firsthand the healthy regeneration of these pristine forests.
At 621m, Mt. Hobson is the highest point of Great Barrier Island. The 360° views from the summit are worth the climb! Walk through the preciously fragile Kaitoke Wetlands where delicate orchids and sundews sprinkle either side of the track. Listen out for the distinctive "u-tick" call of the rare fernbird or spotless crake, the presence of which indicates high wetland health and abundance of food sources. Finish off this sensational hike with a rejuvenating soak in a series of naturally formed, cascading hot water rock pools, framed by lush bush canopy.
This evening we'll enjoy another nutritious, home-cooked meal on the lodge deck as we gaze out over the peaceful Whangaparapara Harbour and watch the sun go down on another great day.
Travelling north, we start our day amongst the spectacular scenery of Port Fitzroy, a stunning combination of crystal-clear water and bush covered hills. Enjoy swing bridges and glorious nikau forests on the 2-hour walk down to secluded Bush's Beach.
Next, we tackle Warren's Creek Track with a gentle 30-minute climb to a waterfall. There are deep swimming pools in the stream, surrounded by kauri and nikau forests. After lunch we head to the largest white sand beach on the island, where a spectacular coastal walk reveals fascinating shore bird colonies and tells the story of a devastating shipwreck. Take a dip in the Pacific or stretch out on the glistening sand and soak up the island's natural beauty.
A restorative, home-made meal and cold glass of suds awaits us back at the lodge as we enjoy a well-earned rest ready for a slower-paced final day tomorrow.
We begin our last day on Aotea with a beautiful trail down to explore the beautiful southern coast. From the 'Whalers Lookout' track, aptly named for its' advantageous viewpoints, we'll have the chance to spot Brydes 'Broodus' whales lolloping out in the sheltered waters of the Hauraki Gulf. After a picnic lunch, we journey along a beautiful track that follows a central ridgeline, offering views of both golden coasts, through gorgeous puriri trees and nikau palms.
That spectacular white sand beach we saw on our flight in is one of our final destinations, Medlands Beach. Share a reflective moment on Memory Rock, before exploring the rock pools, walking the beautiful white sands or hunting for signs of early human habitation around the bouldered base.
To wrap up an excellent walking trip, we can check out the museum or relax in the local art gallery and café to soak up the island atmosphere one last time before our flight home. We'll say our fond farewells and deliver you to Claris Airport in time for a 5pm flight back to the mainland.
The peaceful and private Great Barrier Lodge is located in stunning Whangaparapara Harbour. There are plenty of sunny, private decks to relax on, with charming interior decor and harbour views, plus large trees for shade. A solar-power array makes this eco-lodge completely off-the-grid for a low impact, sustainable travel experience.
There are double and twin rooms with ensuite bathroom facilities*. Single supplement is available for solo travelers who would like a room to themselves. Dinner and breakfast are served in the lodge dining room. All meals, snacks and nibbles are included. The lodge has credit card or EFTPOS facilities if you wish to purchase additional drinks with dinner.
*Some rooms can sleep more than 2 guests and family rooms can be arranged, subject to availability. If you have any questions, please get in touch with our friendly reservations team.
We supply
Generous, nutritious meals full of fresh, local produce; packed picnic lunches with the best sandwiches you've ever eaten, trail snacks & chocolate; fresh fruit & hot drinks.

Two complimentary glasses of crisp Kiwi wine or craft beer per person, each evening; you can purchase more with dinner if you wish. The lodge has EFTPOS and credit card facilities, so cash is not essential.

Bed linen, bath towels, pillows & blankets.

Toilet paper, soap & hand sanitiser.
What else do you need to know?
There are no drying rooms available but plenty of wide, covered verandahs for drying wet gear.

Specialty diets; we can cater for a wide range of food allergies and specialty diets with sufficient advance notice. Please let us know at the time of booking if you have specific dietary needs and we'll make sure you're well taken care of!

Accommodation is based on a twin-share arrangement; if you'd rather have a private room, a single supplement fee of $300 NZD applies (this is for the whole trip, not $300 each night).

The lodge has power outlets next to most beds, so CPAP machines are easily accommodated. Please let us know in advance so we can put you in an appropriate room.

Hair-dryers and hair straighteners are best left at home as these overwhelm the power supply.

Sorry, the use of drones is not permitted.

You are welcome to bring your own alcohol if you wish; we ask that you drink responsibly.

Non-walkers are more than welcome to join us! There are plenty of activities to be done that don't involve walking, please enquire with our friendly reservations team for more information.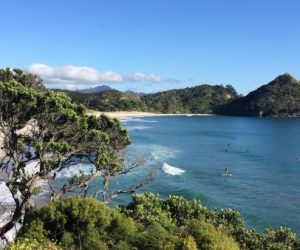 I'm Travelling Solo – Who Will I Be Sharing a Room With?
The accommodation on the Great Barrier Island Escape guided…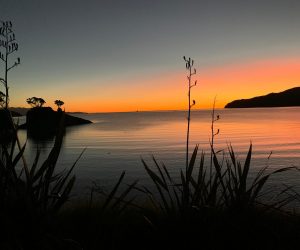 Should I Bring Something Nice To Wear In The Evenings?
You're on holiday after all, so why not!? For…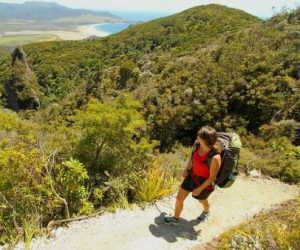 Specialty Diets – Can You Cater For Me?
Absolutely, we are happy to accommodate guests with specialty…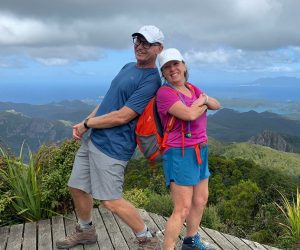 I suffer from terrible car sickness, what will the roads be like?
Good question! In general, the roads we travel are…