Thank you for choosing Walking Legends! You've come to the right place – we have all hire gear needs for your next North Island guided walk.
We offer complimentary hire gear for all of our North Island guided walks. We have good quality hiking equipment available for you at no extra cost. Just let our friendly reservations team know what you'd like to borrow when you complete the Customer Safety Declaration Form around 2 weeks before departure. Your guides will have your equipment ready for you on Day 1 when they pick you up. It'll be yours to use for the duration of the trip and we'll collect it from you when we return you safely to your accommodation at the end of the tour.
We start planning and packing for a tour around 7 days before departure so the earlier you can give us a heads up on what you need, the easier it is for us to organise!
What gear have we got?:
For our hut-based tours of the North Island Great Walks: the Waikaremoana Guided Walk & the Tongariro Northern Circuit
Sleeping bags
Sleeping bag liners
Camping pillows and pillow cases.
Backpacks – both 40 litre and 70 litre
Raincoats
Walking poles
For our lodge-based tours: Coromandel Explorer, Waikaremoana Discovery Tour, Great Barrier Island Escape & Tongariro Hiking Tour
Backpacks – both 40 litre and 70 litre
Raincoats
Walking poles
Sleeping Bags
On our hut-based tours, we stay in Department of Conservation backcountry huts. These huts have slab-style, dormitory bunk rooms and each bunk comes with its own mattress. We can lend you one of our sleeping bags for the trip. These come with a cotton sleeping bag liner for hygiene reasons. Our sleeping bags are all-season and are of a standard length.
Camping Pillows
Our camping pillows are small, lightweight and similar to a cushion inner. They're easy to carry and pack down really small. We pop them into a cotton pillowcase for you, just like you're used to at home.
Backpacks
We've got two sizes of backpack, 40 litre and 70 litre. The 40 litre backpack is a day pack size – slightly larger than your average child's school bag. The 40 litre size is perfect for a day walk where you don't have to carry anything more than your raincoat, water, lunch and personal items.
Our 70 litre backpack is best for overnight, hut-to-hut adventures where you need to carry not only your things for the day's walk, but also for that night.
The Tongariro Northern Circuit is an example of the type of tour where you'd be well served by a 70 litre backpack. A 40 litre backpack should be all you require on the Waikaremoana Guided Walk, as most of our extra gear can go on our support boat.
Our backpacks are all modern, soft frame backpacks with no hard pole-frame structures. They're fully-adjustable so you can tailor them to your liking.
NOTE: We don't supply pack liners or pack covers. We find the best thing to protect your things while inside your backpack is to use a simple black plastic bin liner.
Raincoats
Our raincoats are good-quality, outdoor raincoats by BetacraftNZ. They are waterproof and windproof. They are quite generous in the sizing and long in the body so you can wear your normal outwear jacket underneath. They are unisex in style, so the sizing guide follows mens sizing but also applies to women. They have deep pockets and generous hoods. We have a range of sizes: small, medium, large, extra-large and XXL.
Check Your Size – Unisex Sizing Chart for Raincoats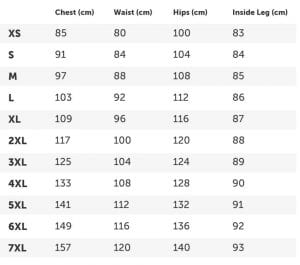 Walking Poles
We have pairs of walking poles available. They're light and fully adjustable to your own preferred length. They have cushion hand grips and wrist straps. It's okay to just borrow one, or a full pair if you'd like. If you're coming from overseas and taking a pair of poles on the plane is just too much hassle, put your name down to borrow a pair of ours and we'll take care of it.
Thank you for choosing Walking Legends! We know packing for a multi-day guided walk in New Zealand is a real adventure so we've perfected the art of guided walk hire gear over the past two decades to make sure your guided walk experience in the North Island is as smooth and hassle-free as it can be!
If you've got further questions on what gear is right for you, give our friendly team a call on NZ Freephone 0800 925 569 or AUS Freephone 1 800 646 584 or send an email to [email protected]