Kia ora, I'm Brad, senior guide and co-owner of Walking Legends. In my near 20-year outdoor career I've walked hundreds of trails, some of them over 100 times each, so I go through a lot of pairs of hiking boots. Usually, a pair of boots will last me two years and I'll walk the soles down to a smooth rubber.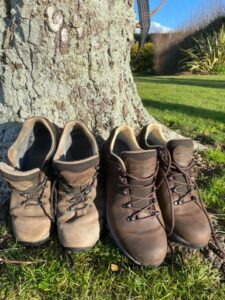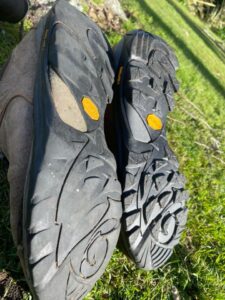 As a hiking guide, I'm constantly asked about boots. How do I choose the right pair of hiking boots? Should they be tight or loose? Which is better – leather or synthetic material?
Well, the answer I give most people is sometimes unpopular ….. you just have to try on a lot of shoes.
What you wear on your feet matters. We are all built differently and we all have different needs when it comes to footwear. The shape of your foot, the way that you walk and your budget are all unique to you.
The first thing to do is to ask yourself, "What function do I want my shoes to perform?" Are you hiking often? Do you prefer ankle support or lower ankle shoes? Do you want to keep your feet dry (of course you do)? This can help narrow down your options in a market flooded with possibilities.
Over the past 10 years I have distilled the search for a good hiking boot down to a fine art. A few years ago I finally found "my boots". I am currently wearing Anatom Q1 Braemer Lows. They are the ideal boot for me. They have a 2.2mm waterproof, Italian-leather upper and a waterproof and moisture wicking inner. There is plenty of room in the toe box and a comfortable, low-heeled sole. Even the way the laces function plays a part as well as, of course, "the look".
Anatom Footwear is designed in Scotland and handmade in Europe according to a set of strong sustainable values. Raw materials, like leather, are sourced from Italy. Some of the modern technology employed in outdoor shoe manufacturing is phenomenal. Micro-porous membranes, hydrophobic linings, bio-form frames and calibrated flex systems are just some of the technical jargon you'll encounter on your search. This shouldn't detract from the core function though – your hiking boots should fit well, provide you with grip and stability and last a reasonable length of time and distance.
But now my problem is this…..the Anatom Q1's have been discontinued. Oh dear, I had a mild panic attack. I searched the nooks and crannies of the internet to find that seller who may just have a pair left in stock. No luck. I was filled with pure dread when I realised I'd have to start the shoe search from scratch. I'm the first to admit that when it comes to a decent outdoor hiking boot for New Zealand conditions I'm fussy, I know what I want in a boot.
I thought it would be simple to type in my search parameters and discover my new perfect boot. How wrong I was. It was really hard. Some had the right leather but the wrong laces, or the shoes looked good but the reviews were bad. I watched YouTube video after Youtube video. I found a few that made the shortlist and then I tried those ones on in the store. And this ladies and gentleman, is the crux of this tale. You just have to go and try boots on. Over and over again. Your feet will tell you when it's right.
A great hiking boot should be comfortable (reasonably) from the moment you put them on. Lots of leather shoes take a while to break in and mold to your foot. This is true. But those leather shoes shouldn't be wildly uncomfortable when you first put them on. Your feet will know. Walk around the store. Roll your feet around. Walk up and down stairs. Put your heels up against the walls. Putting the shoes in these odd angles will help you determine fit and potential for hot spots. If something doesn't feel good move on. And then, all of a sudden, when you least expect, the shoe will fit.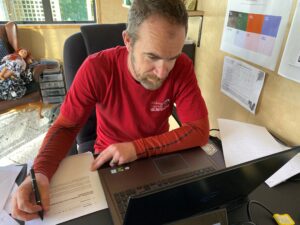 You'll be pleased to know that after weeks of searching, I found perhaps the last remaining pair of Anatom Q1 boots in the outback of Australia recently so lucky for me, I get to postpone the arduous 'new boot search' for another few thousand kilometres. Phew! When I've walked the rubber off this new pair, I will be back out there again trying on whatever I can looking for my next right pair of hiking boots. Good luck in your own search for the right pair of hiking boots! Let me know if you find any gems.
(This post is not sponsored by Anatom or any other outdoor footwear manufacturer. We just give honest reviews of good gear, and not so good gear, after putting it to serious trail tests under real New Zealand outdoor conditions)