What Does A Hiking Guide Actually Do?
Hello there fellow hiker. Haere mai/Welcome. Here at Walking Legends we do guided walks. We have a team of professional guides whose job it is to make your outdoor experience absolutely tops. You might be wondering, 'What does a hiking guide actually do?' Or maybe, 'In what ways can they enhance my experience?'
If you've always been a self-guided walker (and proudly so) you may be curious to know exactly what a hiking guide does, or how they add value to your adventure. A hiking guide does a lot more than just walk and point out interesting trees and birds. A guide is a crucial cog in a successful group tour. They wear many hats; sherpa, first-aider, teacher, therapist, entertainer, professional mountain goat and weather forecaster.
Driving
You see so much more when you're not driving. Have you ever noticed that?
Your hiking guide will do all the driving so you can take a backseat and just enjoy chatting to your fellow passengers or get a really decent view of the surrounding scenery or countryside. They'll handle the tricky driving situations and road conditions that sap your mental energy, leaving you fully rested to put in the miles on the track.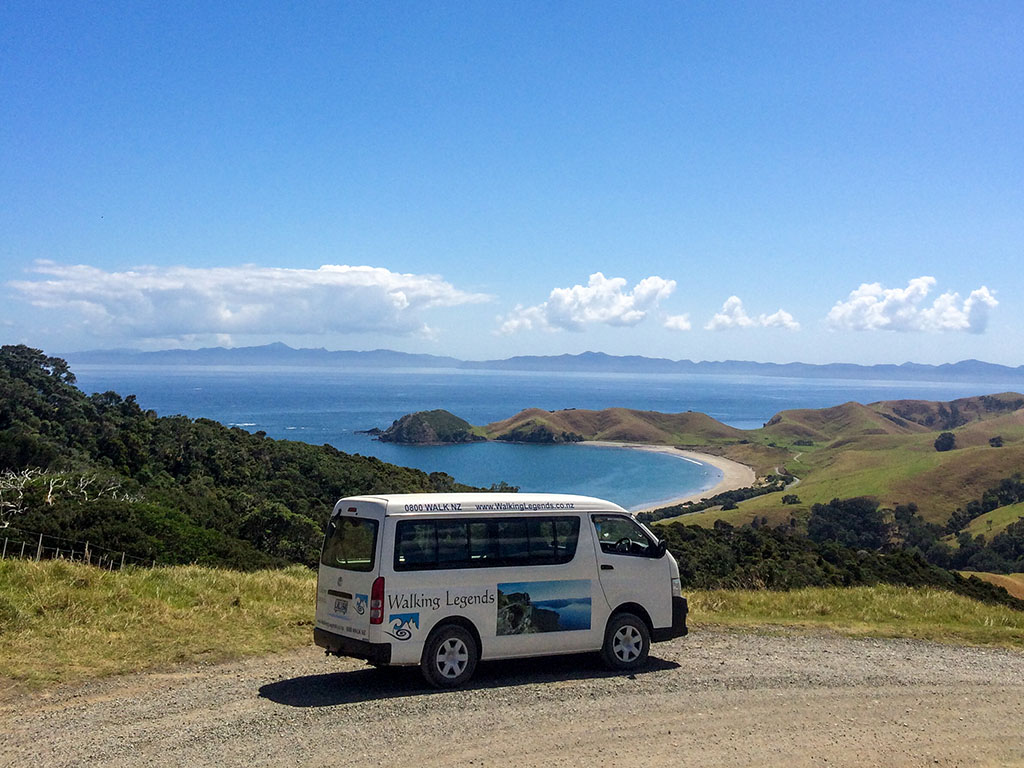 Time-Saving
When you're on holiday things like checking maps, researching websites and making phone calls can really shorten your window of 'fun' time. Not to mention having to 'clock-watch' to make sure you meet that ferry, make that closing-time or get to that tide-dependent spot. Your guide already has those details dialed in, you can simply show up, switch your thinking brain off and leave the burden of organising to them. With an experienced guide at the helm, your day will roll like clockwork and you'll not only feel in safe hands, but you'll be having the time of your life!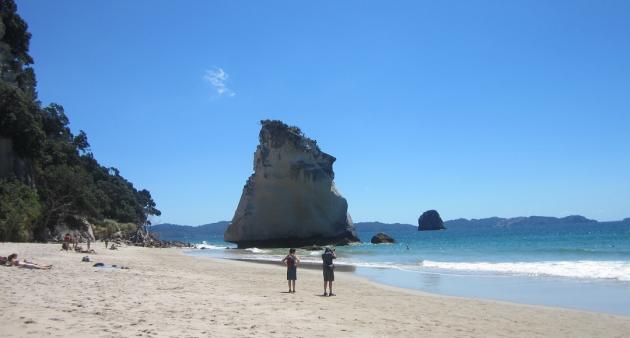 Experience
A good hiking guide has walked these trails many, many times. They will know which weather conditions are favourable and which should be avoided. They will know the exact route to take. They'll know which parts of the access road or the track itself are either impassable or unsafe after heavy rains. They can show you the highlights of the track, including hidden features that most day-walkers blast right past! They'll know which season is best for bird-spotting, which kind of forest if better for mushroom-hunting or which vantage point is best for photographs. And hey, when your internet signal drops out and Google becomes unavailable, they'll still be there to help you fill in the knowledge gaps!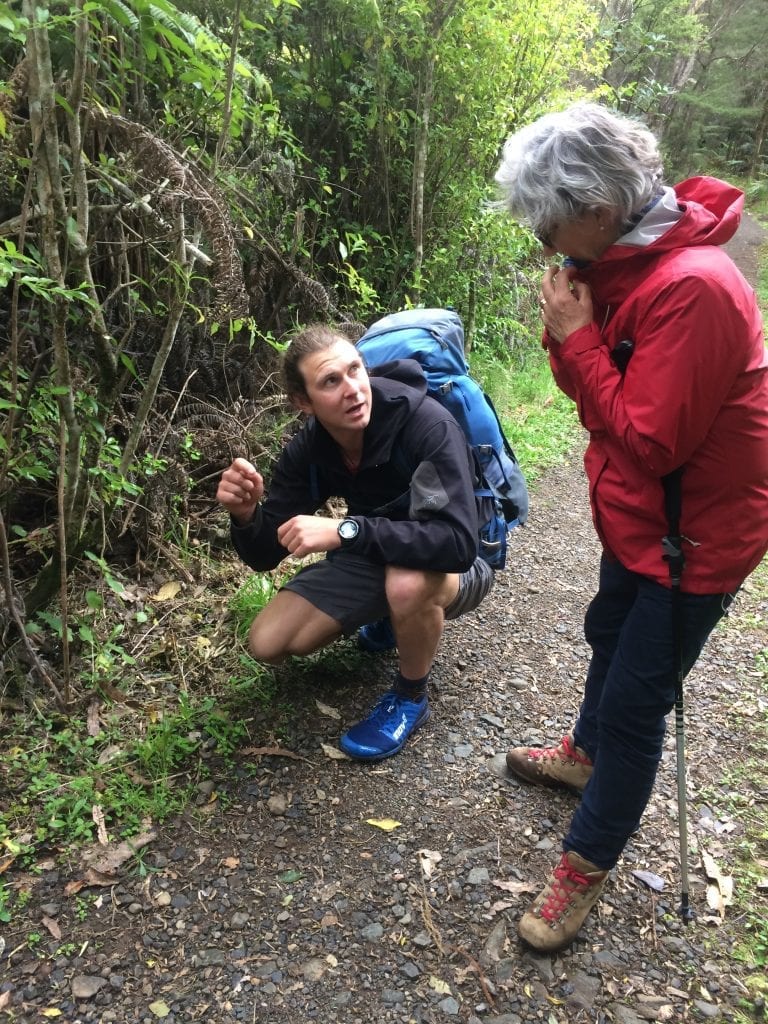 Safety
In an un-guided situation or when you're hiking alone, you have to ask yourself – Are you fully prepared for an array of emergency situations? How would you deal with a heart attack? Do you remember the current best practice methodology for CPR? Where is the nearest defibrillator? How do you administer an Epipen for severe allergic reactions? Should you administer it? Panic!
All too quickly you can find yourself in a stressful situation with someone's life depending on you making good decisions. That can be tricky to do under pressure and before you know it, a relaxing day out has become a terrifying ordeal.
A hiking guide is the nominated safety person for the whole group. We're prepared for not only minor cuts and scrapes, but life-threatening emergencies as well. Our hiking guides are First Aid trained professionals who carry comprehensive First Aid Kits at all times on the track. They also carry a satellite communications device in the event of emergencies. It is literally their job to keep everyone as safe as possible.
When we roll these benefits up into one big value-sandwich, choosing a guided walk starts to look like the smart choice.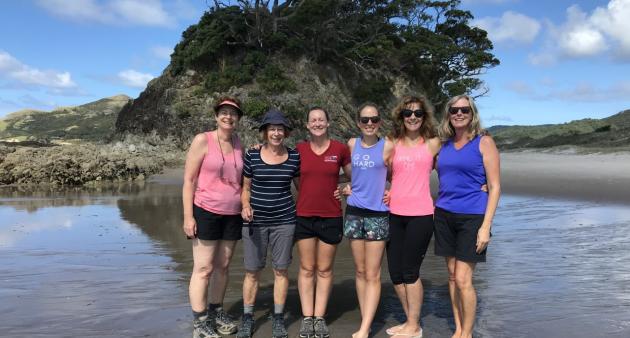 But Isn't It Weird To Have This Person Walking With You?
If you're used to walking independently, one of your biggest hesitations may be that it might be strange to be walking with a guide, who you've never met before. This person is effectively accompanying you on your holiday and you'll be spending lots of time together. That might seem strange to trail-newbies but with an experienced guide, it should never feel weird.
A good hiking guide will be adept at sensing group dynamics. They know when to take the lead and be visible, but also when to fade into the background. They'll be acutely aware that this is your holiday and you're looking for a genuine peaceful experience in nature, so they'll know when to leave you alone to enjoy yourself. If the group isn't keen on educational talks, they'll sense that and keep those moments to a minimum. Or, if everyone is interested in learning more, they'll be on-hand to dive deep into their knowledge bank to really enhance your outdoor experience.
If the whole group is meeting each other for the first time, having a guide leading your multi-day guided walk can also be instrumental in things like facilitating introductions, bringing those more introverted hikers out into the light and making everyone feel comfortable and at ease. Everyone in the group is on a guided walk simply because they love to hike, so we all have at least 1 thing in common. There'll be many more things we'll be able to connect over, with a little help from a guide to get things warmed up. Sometimes all it takes is a good leader to get everyone walking, and working, together towards an awesome guided walking holiday.
To meet our team and learn more about the exciting personalities you can walk with, visit our guide page here.