On the Great Barrier Island Escape walk we'll be staying at Great Barrier Lodge for the duration of the trip. We spend all 3 nights of the tour here so there's no need to unpack and repack each day – once we arrive we're into relaxation mode!
Whangaparapara Harbour
Great Barrier Lodge is situated in the central part of the island, on the western coast, overlooking the beautiful Whangaparapara Harbour. It's roughly a 20-30 minute drive from Claris Aerodrome. Whangaparapara Harbour is a very small, quiet cove with only a handful of buildings. It's peaceful and idyllic, perfect for unplugging from modern life for a few days.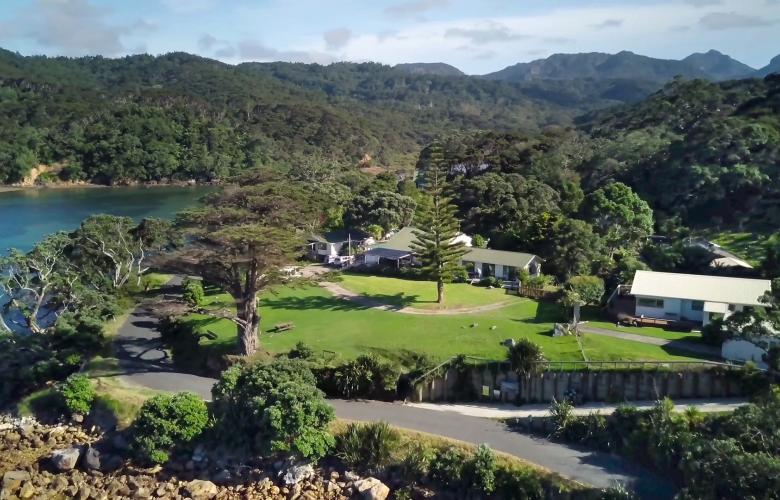 Accommodation / Rooms
The lodge is set up on a small rise to take advantage of those great harbour views. The lodge has 8 rooms in total so it's true boutique island paradise. Each room is well-appointed and comfortable. Most rooms have king-sized beds in them with fresh linen and extra blankets, plus an extra single bed in some rooms for more options. In-room facilities include a kitchenette, gas hob, kettle, cutlery and crockery, a microwave and refrigerator. There are standard New Zealand tri-point pin electrical sockets in each room. Every room is different so if you require a CPAP machine please let our team know and we'll allocate you to the room with the most convenient socket layout near the beds.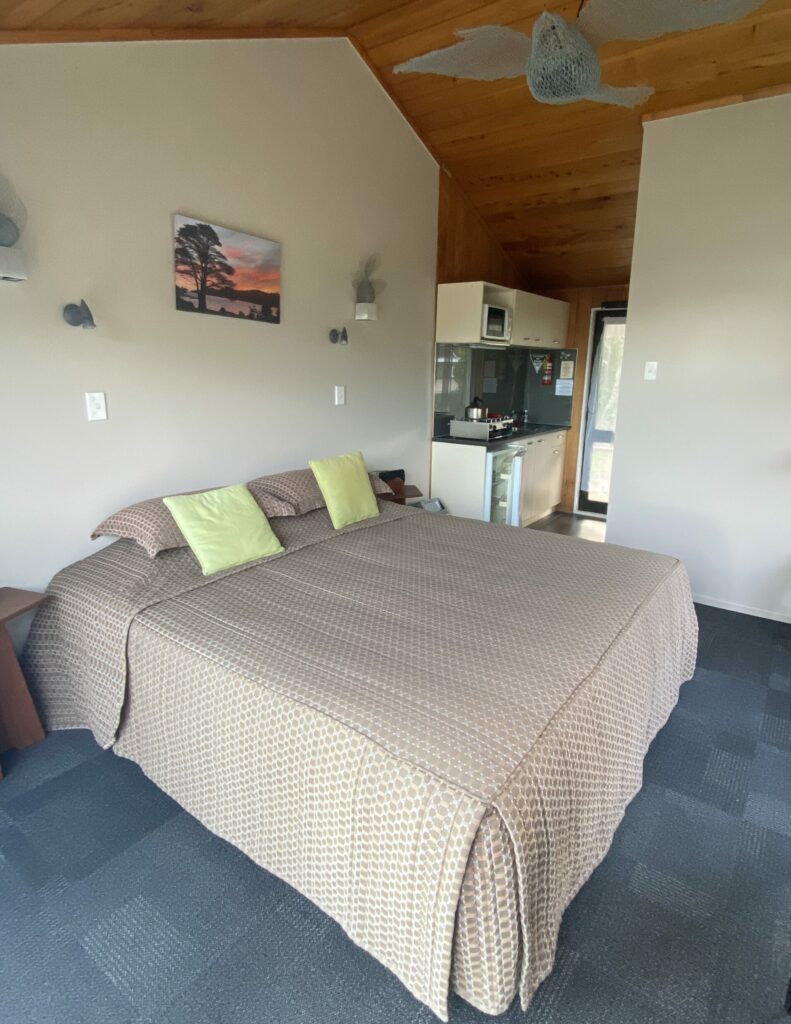 Bathrooms
Each room is equipped with an ensuite bathroom that has a toilet, basin and shower. There are no bath tubs or outdoor hot tub. You'll have plenty of fresh, clean bath towels throughout your stay.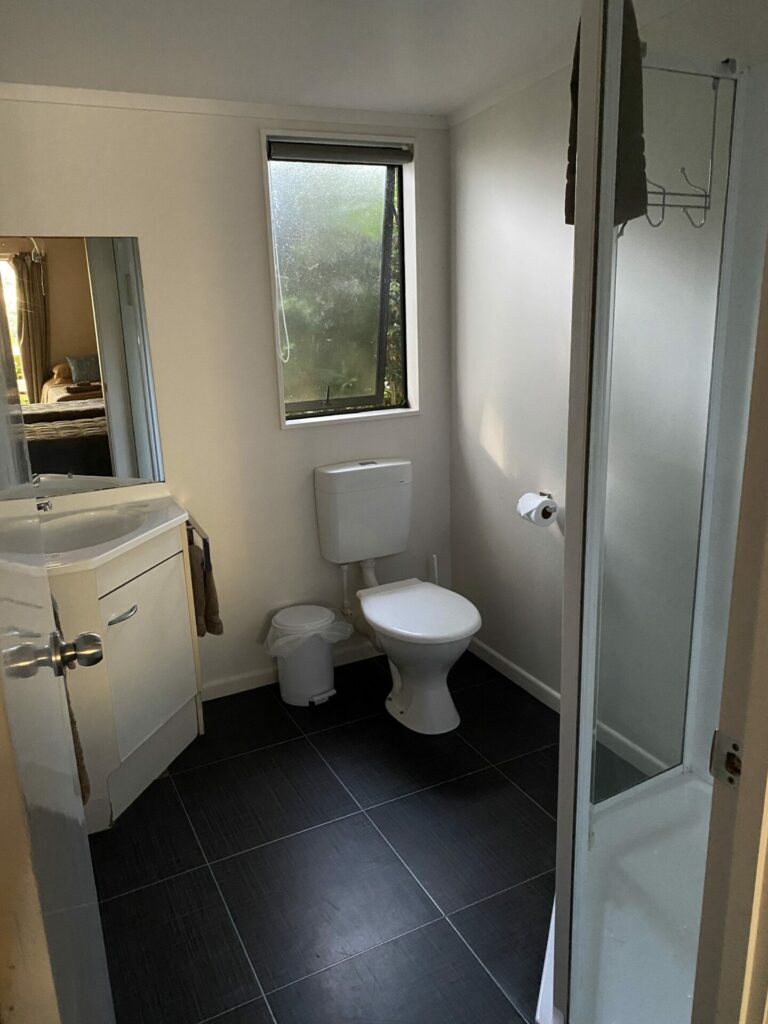 Solar-powered electricity
Great Barrier Island has no reticulated electrical power supply from mainland New Zealand so everyone has their own solar-powered set up with arrays of panels and back-up generators. Being energy efficient and environmentally conscious is part of the fabric of Barrier culture and most premises ask that we leave things like hair-dryers and hair-straighteners at home as these can short the power system. Back-up generators are employed in the case of emergencies.
Power points and plugs on Great Barrier Island are exactly the same as on mainland New Zealand. These are called Type 1 plugs which have 3 flat pins, with two angled to form an inverted 'V' at the top and one running straight up and down below, see image. This is the same as Australia and the Pacific Islands. The voltage in New Zealand is 230/240 volts or 50 hertz.
Water Conservation
Much of the fresh water on the island comes from springs or rainwater collection. There are times during the peak of summer that we conserve water. This means that instead of washing our tour vehicle regularly, we limit ourselves to infrequent, strategic washes. There may also be a hose ban we need to respect. There'll still be plenty of water supplied for drinking, cooking and showering, it's just the extra water usage during the height of summer that is impeded.
Wi-Fi & Mobile Reception
The lodge has wi-fi available for guests to use. You'll be able to access this from your room, you don't have to go up to the shared spaces for this. As this is an off-shore island, the streaming and download speeds of the network are often much slower than at home, so it's a good idea to download any files or movies you'd like to watch directly to your devices.
Mobile reception is patchy and inconsistent. We'll find some surprise areas of service while we're out walking but for maximum relaxation it's best to unplug completely and let your important loved ones know you'll be hard to reach during the tour. The lodge has a landline number and you are welcome to pass this on to friends and family if they may need to get hold of you. The number is 64 9 429 0488.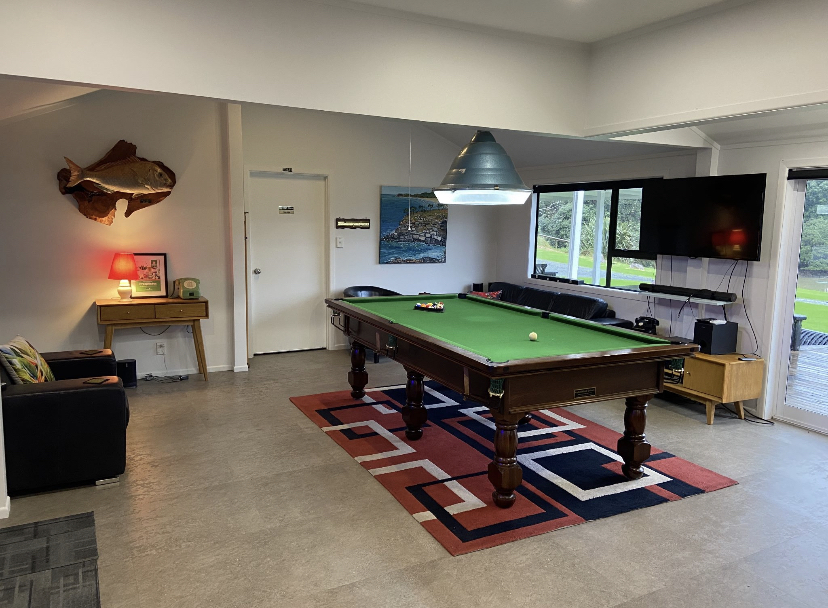 Lodge Facilities
This is a fully catered trip, so we'll supply all of your meals and drinks while you're with us. There is on-site restaurant and bar where we'll have our meals together. Your room will have its own tea and coffee making facilities, so that you can imbibe your brews whenever suits you.
Included in your tour package are two drinks with your evening meal. Additional drinks are available to purchase directly from the on-site bar.
There are plenty of wide, covered verandas and an indoor pool table and darts board if you'd like to challenge anyone to a tournament. Or just sit quietly on the deck and spot some of the local kākā / brown forest parrots or banded rails as they go about their own island lives.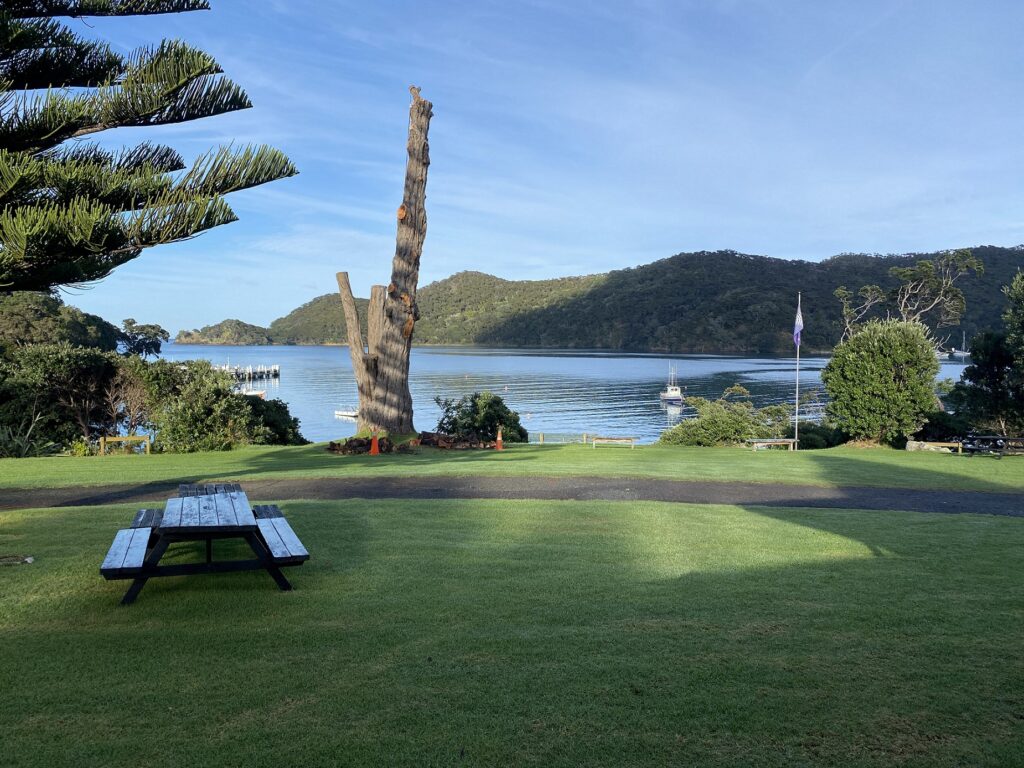 There is no local shop or convenience store here so you'll need to bring any important items like medications, batteries or extra treats with you from the mainland. The lodge has a small selection of local products to purchase at reception like locally produced honey and award-winning Island Gin. If you'd like to take home some special Aotea Coffee, roasted in an off-the-grid coffee roastery right there on the island, the lodge team can help get you connected with the right people. There are EFTPOS and credit card facilities at lodge reception and they also take cash (New Zealand dollars only please). There are no ATM facilities or currency exchanges on the island, so get your hands on some local currency before you arrive.
There is easy swimming available right in front of the lodge, just remember to take appropriate footwear and much of the cove is rocky underfoot – it's not a sandy beach kind of cove, but more of a rock-pool and pebble beach.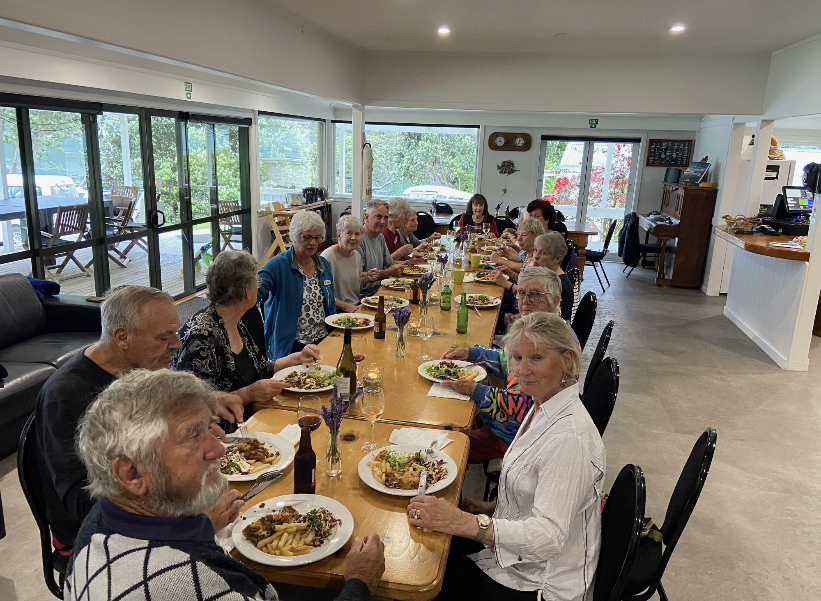 Recycling
Great Barrier Island minimises waste wherever possible and a recycling programme is active island-wide. There is a small community recycling centre on the island where refuse is sorted and recycled into what can be reused and what must be transported back to the mainland for further processing. Whenever we're on the island we're always conscious of what we've brought with us and our preference is to take it with us when we go rather than burden the local system.
Whangaparapara Wharf
At the far end of the cove, a short stroll from the lodge, is the Whangaparapara Wharf. Occasionally private watercraft and small vessels of all descriptions land here and it's a lovely spot to wander down to and have a look at the interpretation boards describing the old days of Whangaparapara Harbour when it was one of the last operational whaling stations in New Zealand. Whangaparapara Wharf is not one of the regular stops on the Sealink Ferry though, this passenger and cargo ferry usually stops at either Port Fitzroy or Tryphena Wharf.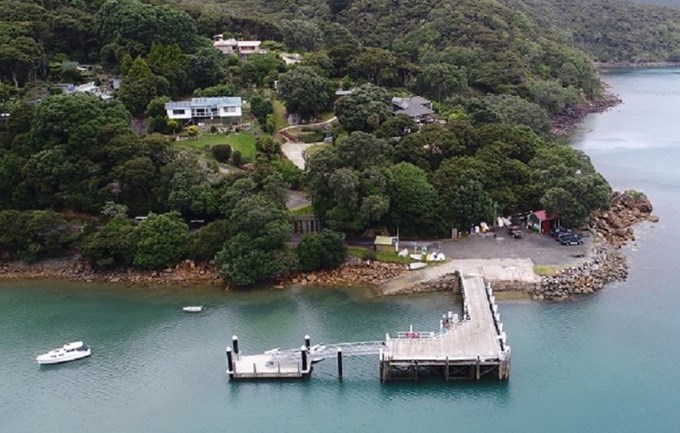 Our Lodge Hosts
Our lodge hosts live right nearby and are on hand for any maintenance issues or just to provide that local island know-how. On the odd occasion that our hosts aren't available, our guides stay on-site as well and can assist you further should you need it.
If you have any further questions or needs regarding accommodation on the Great Barrier Island Escape guided walk in New Zealand with Walking Legends, please get in touch with our friendly team on:
+64 7 533 3157 (international)
0800 925 569 (WALKNZ) New Zealand Freephone
1800 646 584    Australian Freephone
or send us an email:
For more tips on planning your visit to Aotea / Great Barrier Island we've compiled our best local knowledge into one simple, easy to read blog – 'How To Visit Great Barrier Island.'