How To Visit Great Barrier Island
Great Barrier Island has held an air of mystery and intrigue for many a traveler and once you've visited, it's a hard place to leave. The island is home to a unique pocket of New Zealand culture, where residents practice sustainability and environmentalism as a collective philosophy.
The indigenous Māori name for Great Barrier Island is Aotea. As we move towards becoming more of a bi-lingual society here in Aotearoa/New Zealand, you'll sometimes hear it referred to by both of its' names 'Aotea/Great Barrier Island.'
Aotea lies just 90km north-east of Auckland City at the outer edge of the Hauraki Gulf. Named by Captain James Cook, Aotea/Great Barrier Island does exactly that, provides a barrier between the tempestuous Pacific Ocean and the calmer inner waters of the Hauraki Gulf.
What's So Special About Great Barrier Island?
Three Reasons Why You Need To Visit Great Barrier Island
Firstly, the island is completely off-grid. There is no reticulated power network and it's not connected to the national grid. Everything is run off solar power, with back-up generators for emergencies.
Secondly, almost 70% of the island is under the management of the Department of Conservation as a nature reserve. It's currently free of possums, mustelids, goats, wallabies and Norway rats and working towards removal of other pest species as well. Both the climate and the low population density has produced a regenerating forest of high quality and significance.
Lastly, and perhaps most uniquely, it's a Dark Sky Sanctuary and the very first island to be awarded this status. A prestigious, hard-won award, it isn't handed out to just any old place. A dark sky sanctuary is the top-tier of the 5-tier certification system, reserved for the most remote places in the world whose conservation state is most fragile.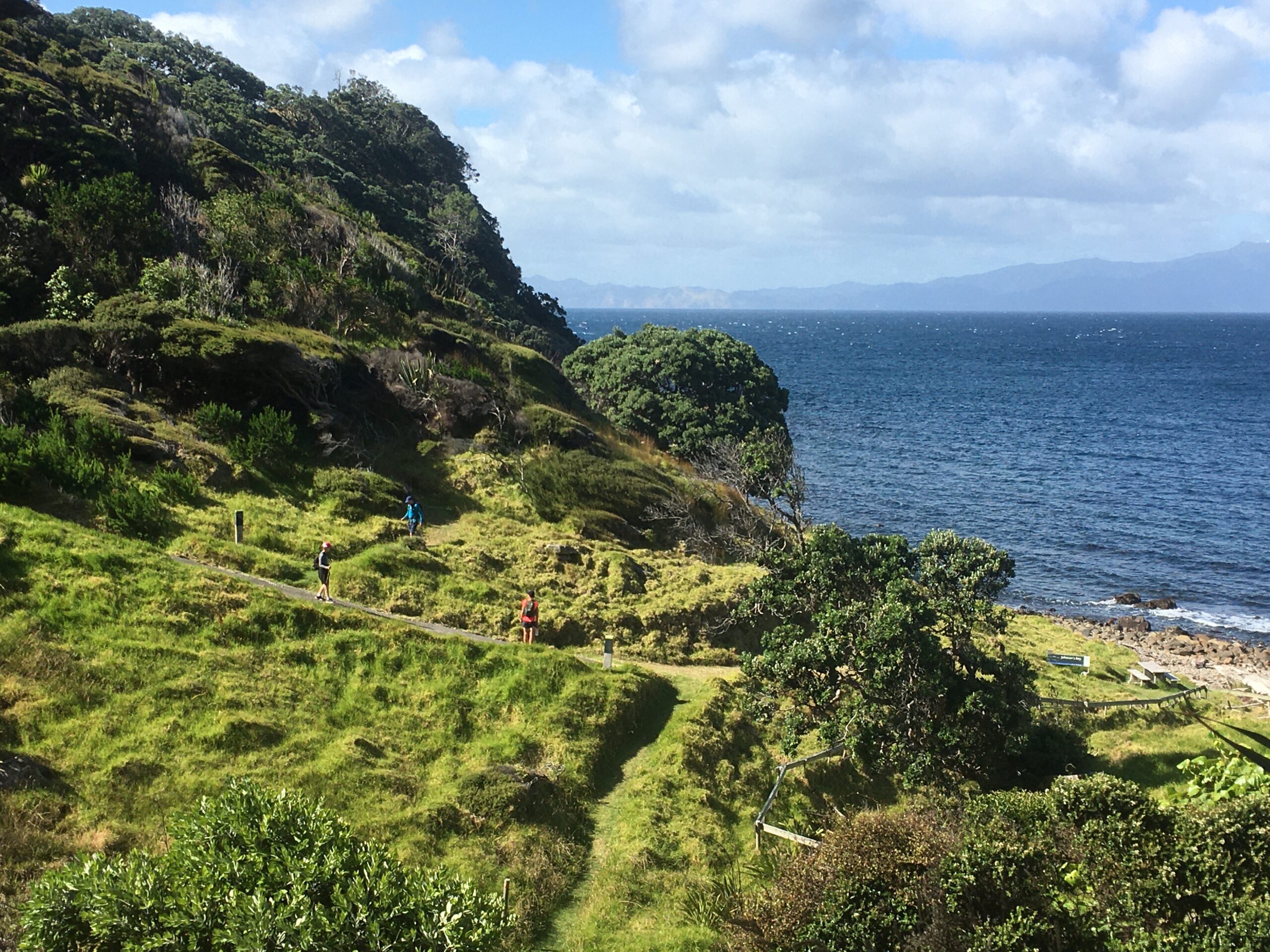 Tangata Whenua / The People of the Land
The local iwi, or Māori tribe, is Ngāti Wai Ngāti Rehua ki Aotea. Aotea, and the outer lying island, are their ancestral lands and they are settled in the north of the island at Katherine Bay. Local iwi make a significant contribution to the holistic health of the natural environment and the social wellbeing of the almost 1,000 island residents, performing the vital role of 'kaitiaki' or guardians of this place.
How To Get To Great Barrier Island
Heading "offshore" while you're still in New Zealand can be an exciting, adventurous prospect. You can get to Aotea/Great Barrier Island either by land or by sea. The journey takes 30 minutes by air and 4 hours by ferry from downtown Auckland.
There are 3 regional air operators connecting with Aotea. Barrier Air is the predominant carrier and offers the most frequent flight schedule. If you'd like to start your journey to the island from a more remote place and you'd prefer a more personal, tailored service try one of the smaller air operators.
Barrier Air
There are a couple of regional airlines servicing Great Barrier Island. The largest is Barrier Air. They have the most frequent flight schedule, with flights running every 30 – 60 minutes throughout the day.
SunAir
SunAir is a smaller regional airline that offers charter flights to Whangarei, Aotea/Great Barrier Island, Whitianga, Hamilton, Tauranga and Gisborne.
NOTE: They don't fly into or out of Auckland City.
Island Aviation
Island Aviation is based on the North Shore of Auckland and offers flights to Great Barrier Island, Waiheke Island, the Coromandel and Kerikeri. This is also the first ISO-Certified Carbon-Zero air operator in Australasia.
Sealink Ferry
Sealink offers a cargo and passenger ferry service from Hamer St Wharf, not far from Wynyard Quarter, in downtown Auckland City. The journey takes around 4 – 4.5 hours depending on sea-going conditions. These vessels transport goods, vehicles and machinery to and from the island so this is a pragmatic, functional kind of transport experience, but for those of us with firm sea-legs, it can be a wonderful travel experience.
Ferry sailings fill up quite far in advance, so it pays to book early. In the event of bad weather, ferry sailings can be cancelled at short notice and it is sometimes difficult to rebook your travel for the next available sailing.
The ferry docks at both Port Fitzroy and at Tryphena – these are both on the western side of the island. There is no ferry service to the eastern side of the island. Take the time to get clear on your booking form which location you'd like to go to. Following Cyclone Gabrielle in February 2023, the ferry docking locations have changed, so it pays to call ahead and double-check before you book.
What Time of Year Is Best For Visiting Great Barrier Island?
Owing to its' more northerly location, Aotea / Great Barrier Island has a longer visitation season than the major tourist spots of the South Island. Visiting anytime between October and April is a great idea if you'd like to do outdoor activities.
The weather can still be nice during the colder months of June, July and August but remember that New Zealand is subject to seasonal daylight savings time changes and from April to September the afternoons will grow dark earlier, between 5pm and 6pm, than it does in the summer months. If you want to go hiking in the winter-time, be aware that the light begins to fade under the forest canopy from about 3pm.
OUR TIP: If you'd like to spend Christmas or Easter on the island, make sure to book your flights and accommodation early as these book out well in advance.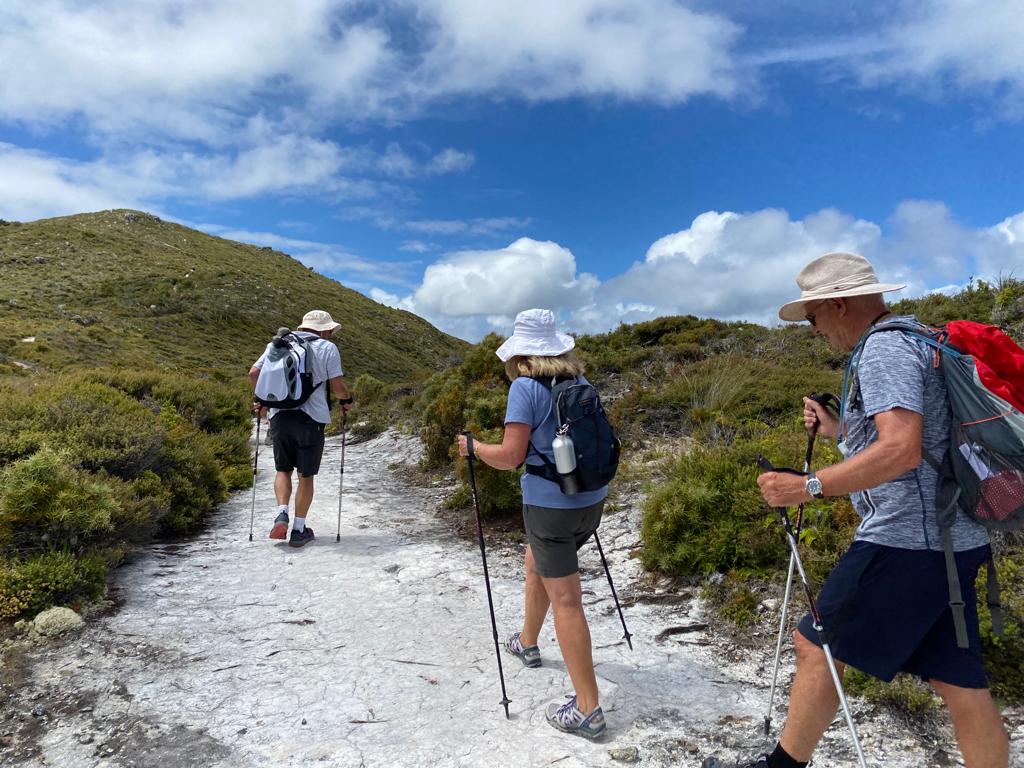 What Time of Year Has The Best Weather on Great Barrier Island?
Great Barrier Island is on a similar line of latitude to Canberra. Canberra is on 35° and Aotea is on 36°. Being an off-shore island, Aotea is subject, at times, to strong winds and ocean currents. The eastern side of the island faces the wide open Pacific Ocean but is the first side to see the rising sun. The prevailing winds usually come from the south-westerly to westerly direction. The windiest month is usually October, and this is not unique to the island alone, that's the case for most of New Zealand as this is our springtime. February and March are the warmest months with the average maximum temperature being around 24° Celsius or 75° Fahrenheit. The Hauraki Gulf tends to shelter the island so you can often find warmer temperatures than in Auckland City itself, but not so hot at the peak of summer as ocean breezes cool things down.
August tends to be the wettest month on Great Barrier Island as this is when we begin to transition from winter through to spring and we start to expect the spring rains. It's great for our rivers, lakes and waterfalls, but requires extra planning if you're heading into the outdoors as creeks and streams will be higher and more difficult and unpredictable to cross.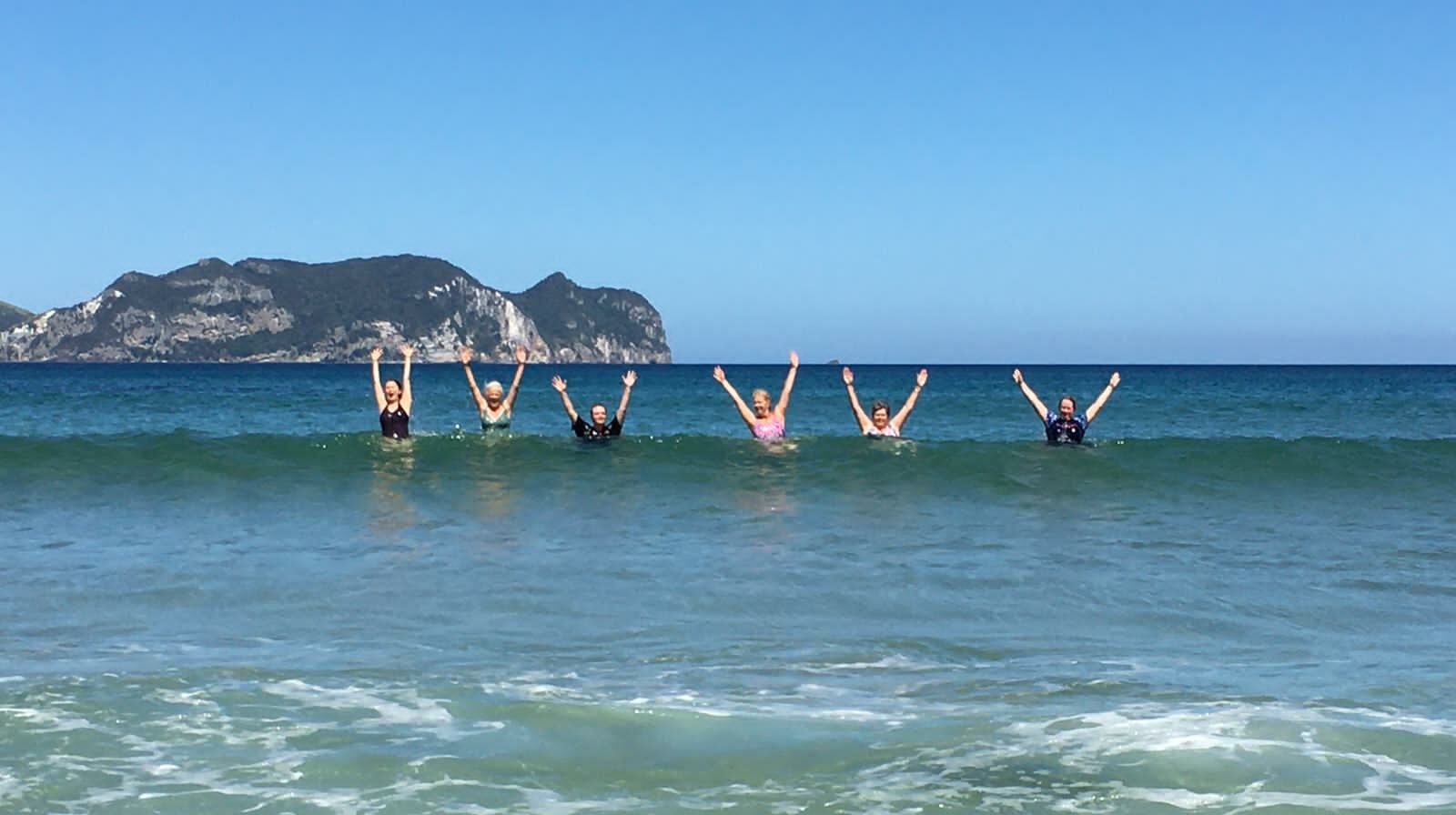 Great Barrier Island is a beautiful place to visit if you love to swim in the ocean. The best time to visit is between December and May as this is when the ocean temperature is above 18° C and therefore much more enjoyable for ocean swimmers. It can be chillier at certain times due to local conditions, so prepare for all eventualities. Our waters can be particularly dangerous even when they look benign. Choose your swimming location carefully and consider the presence of rips, submerged rocks and any other potential hazards. Swim during daylight hours only and always let someone know where you're going and what time you expect to be back.
OUR TIP: The best swimming beaches on Great Barrier Island have to be Whangapoua, Medlands, Kaitoke and Bushes Beach. Whilst other beaches are equally sheltered and easily accessible, some beaches can be really rocky underfoot with steep faces causing a strong undertow on the ebb.
Where Should I Stay On Great Barrier Island?
There are three main settlements on the island where you can find accommodation with supporting services like food and beverage outlets nearby.
Whangaparapara
Whangaparapara is located on the western side of the island, almost parallel horizontally with Claris Airport. It's a 20 – 30 minute drive from Claris Airport.
Great Barrier Lodge – for comfortable ensuite rooms with unmatched harbour views overlooking tranquil Whangaparapara Harbour. At full capacity, the lodge has room for 25 guests and an on-site restaurant and bar.
Claris & Medlands
Claris is the beating heart of the island, located in the centre, only 900 metres walk from Claris Airport. You can find all your essentials here like groceries, fuel, postal services, laundromat, pharmacy and café.
Wiltshire Manor – located in Claris, close to Kaitoke Beach. 3 bedrooms with shared bathroom and shared cooking space with a gas-hob, fridge and BBQ.
Crossroads Backpackers – located near the Claris settlement, in the centre of the island, not far from Claris Airport. Shared dormitory bunk rooms with shared bathrooms.
Just a short drive south from Claris is Medlands Beach, popular with surfers and backpackers.
Medlands Backpackers – located at popular Medlands Beach, with a range of dorm rooms, private rooms and detached cabins all with shared bathroom facilities.
Tryphena
Located at the southern end of the island, Tryphena is a happening little settlement tucked amongst a chain of beautiful, quiet bays. Here you can find small, co-op style wholefoods stores, cafes and the Currach, a famous local pub with fantastic hospitality.
Tipi & Bob's
The Currach Irish pub
Sunset Waterfront Lodge
Pigeon's Lodge
Shoal Bay Estate
DOC Campgrounds
There are a number of Department of Conservation campgrounds on the island. These are bookable via the DOC website. Prices are really economical, adults are $15 per night and kids are $7.50. These campsites are all non-powered tent sites, so most visitors are prepped for tent camping. It's not common to see lots of RV's or motorhomes at these campgrounds, there is very little in the way of hard surfaces like concrete or asphalt for parking. Car parks are usually loose gravel with uneven gradients. Don't expect lots of modern, serviced shower and toilet blocks – facilities are basic and the emphasis is on simply enjoying the settings in a low-impact way. There will be open-sided shelters for cooking in wet-weather, take your own cooking equipment and fuel sources. There'll be showers, but cold water only. Toilets are available, these are the pit-style or long-drop style toilets and it's always a good idea to take extra toilet paper. Drinking water is supplied, but it isn't treated so always boil it before using.
There are a few standard rules of etiquette for camping in New Zealand and these apply to Aotea / Great Barrier Island as well. They are:
Leave your dog(s) at home.
Keep your vehicles in the carpark, don't drive them on the beach. New Zealand is a shore-bird haven and many of our rare species nest directly on the sand. Letting your dog roam free and taking your vehicle onto the beach can damage their habitats and cause undue stress at critical breeding and fledging times.
Take all of your rubbish with you when you leave. Dispose of it responsibly at local recycling stations or landfill.
Don't light fires. This is classed as conservation land. That means no bonfires on the beach or at the campground.
You can choose from these campgrounds:
Awana Beach Campground – capacity for 60 non-powered tent sites, set on the beautiful eastern coast of the island. The campground itself is beautifully protected, tucked in alongside a tidal creek that flows behind a small promontory along the shoreline. A great surf beach is located just 300 metres walk from the grassed campsite itself, so this is a popular spot for surfers.
OUR TIP: Be aware that after prolonged periods of heavy rain, there is a section of the main road leading to Awana that can flood. And take insect repellent with you, sandflies are present at certain times of the year.
Harataonga Campground – A much larger campsite with 60 non-powered sites. While it's located on the eastern coast of the island, it's set back 300 metres from Overtons Beach itself and tucked between two streams with lots of shelter from mature trees. It's right next to the southern end of the Haratoanga walking track, which has a long end-to-end option or a shorter loop option closer to the campground, the longer track is well worth doing if you've got the time, but if you're travelling with small kids take the shorter loop track instead. Remember, don't light fires, leave your dog at home, vehicles aren't welcome on the beach and take out all your rubbish with you.
Akapoua Bay Campground – A 30-site (non-powered) campground, located on the western side of the island near Port Fitzroy. Port Fitzroy is one of the stops on the SeaLink ferry schedule, double check the SeaLink website for up-to-date schedule details and current ports of call.
When you get there, you can swim in the ocean, take a stroll along the Warrens Creek walking track nearby or take a kayak out to Quoins/Graves Island just off-shore. You won't be allowed to bring your dog or light fires either at the campground or on the beach and remember to take any rubbish out with you when you leave.
Whangapoua Campground – this is the largest campground with 75 non-powered sites. Set on the edge of a quiet estuary on the eastern side of the island, it's a popular campsite for surfers who come for the great surf break just offshore. Fishing, surfing and general beach activities will keep you busy, or perhaps take a short in-and-out walk along the Harataonga Walkway from the northern end. Standard New Zealand camping rules apply; leave your dog at home, don't light a fire, keep your vehicle off the beach and take all your rubbish out with you when you go and dispose of it responsibly.
How To Book Campsites on Great Barrier Island
Make your booking online before you arrive. You can book via the Department of Conservation website.
These campsites are open all year round and you'll need a booking no matter what time of year you're visiting. Sites are not allocated to you by number, you simply make your booking online, arrive and select your own site. These are not heavily visited so you usually won't have a problem, but if you plan to visit during public holiday weekends or during the Christmas holiday period, perhaps arrive early just in case.
During the Christmas holiday period (20 December – 6th January), and for the rest of the month of January, these campsites have on-site campground hosts. It is possible to arrive and pay the campsite host directly during this time, but a $10 NZD fee applies for an 'in-person' booking and you may not be guaranteed an available site at short notice.
Stay High Island Camping Co.
If you don't want to lug all your camping gears onto the ferry or the plane, you can hire it when you get to the island instead. Stay High Island Camping Co. have easy set-ups ready to go for all kinds of adventures.
Check out Stay High Island Camping Co. for an easier camping stay with all the kit you could possibly need without the hassle of getting it there yourself.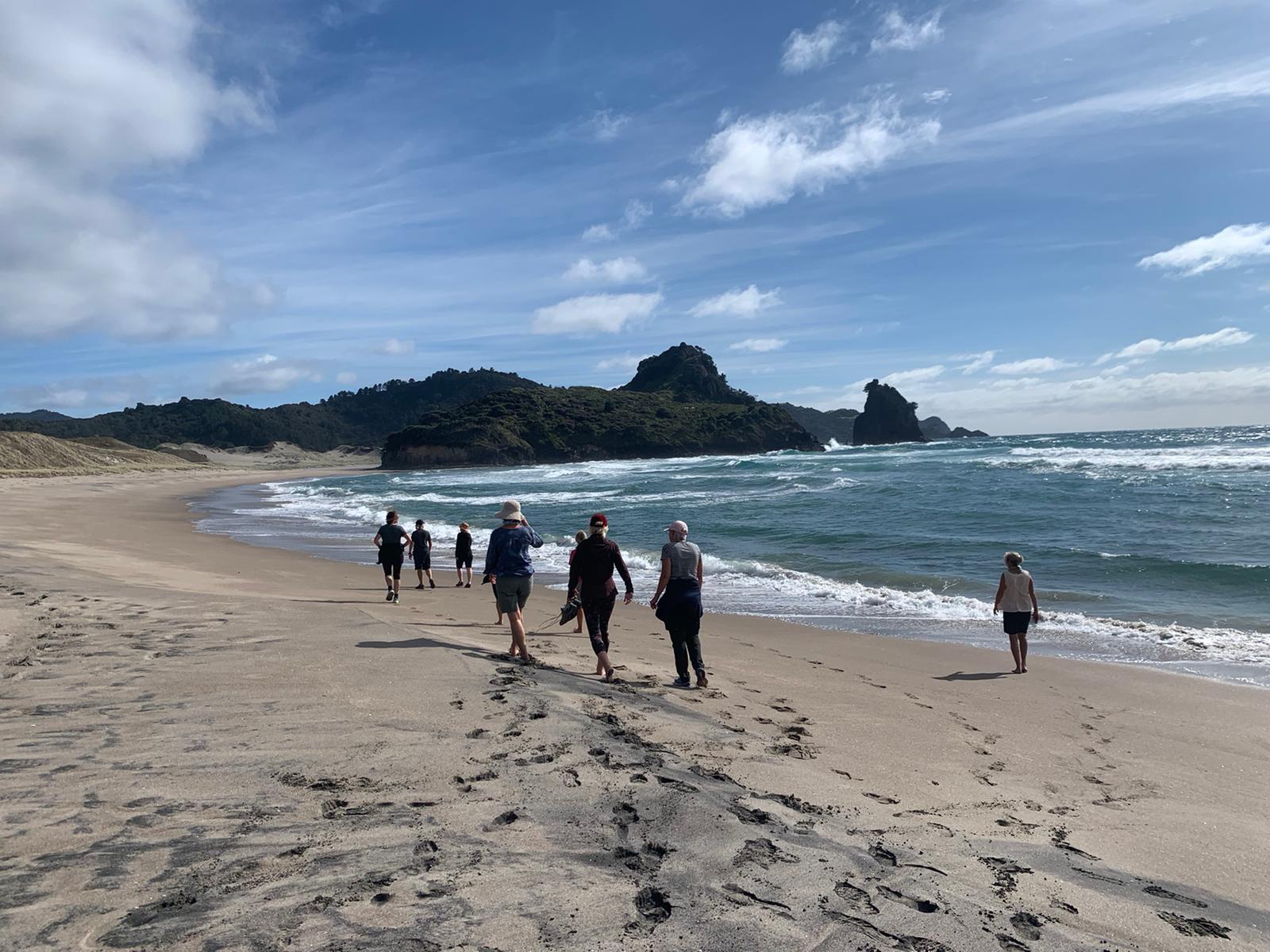 What's the Best Way To Get Around?
The island does not have a public transport system, there are no buses or trains or taxis. This is an intentional deviation from the mainstream, borne out of a desire to keep this place at it's peaceful, wild best.
For maximum flexibility, book a rental car – of which there are many – or set yourself up with a e-bike from Motu Bikes for a low-impact island visit. You'll enjoy your time all the more if you're able to spontaneously call-in at all the quirky, interesting spots you come across on your travels.
Aotea Rentals
Claris Rentals
Medlands Rentals
Shoal Bay Rentals
Great Barrier Lodge Rentals
There are shuttle services to get you from one place to another, but they are best saved for travelling longer distances.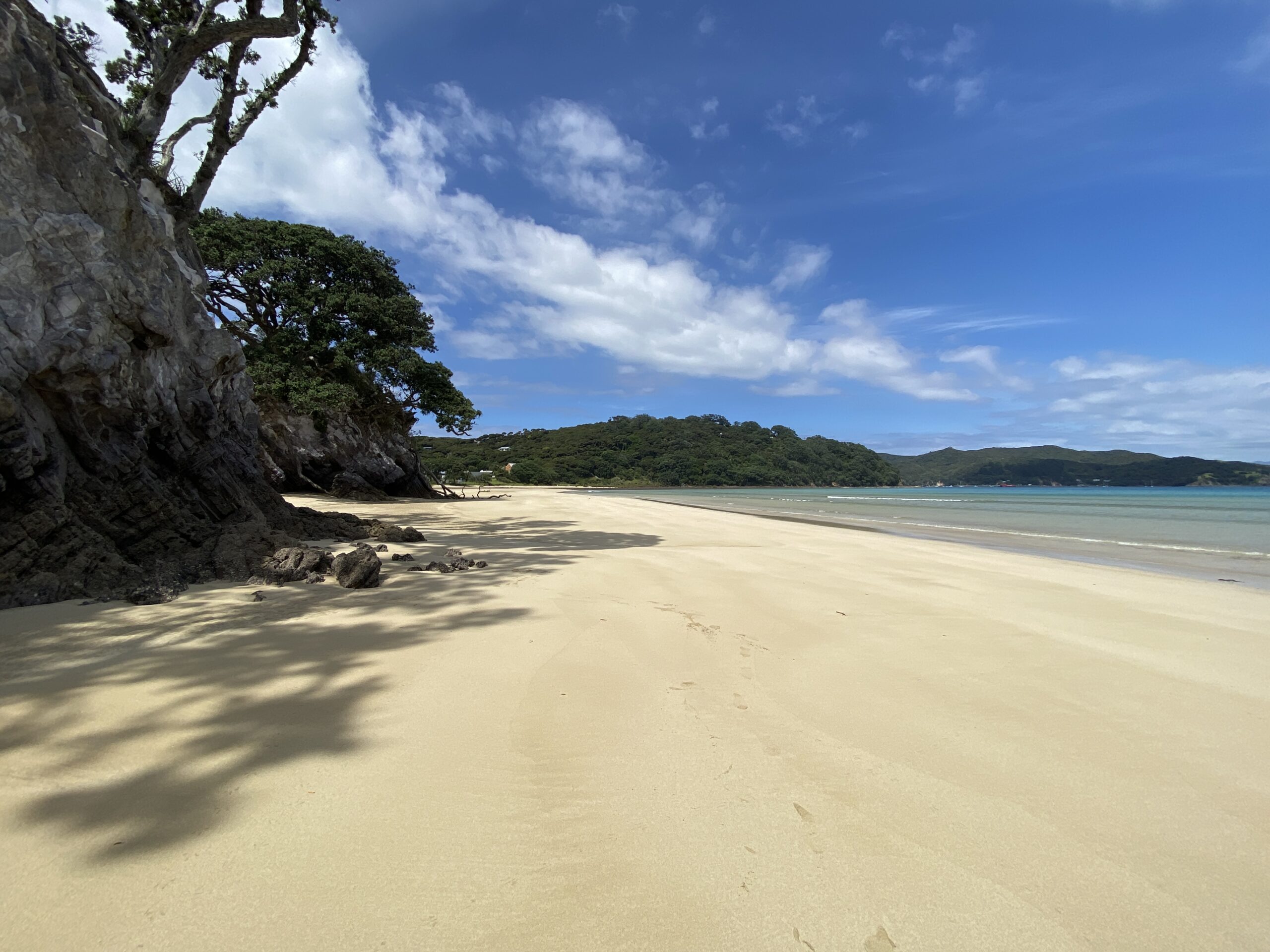 What Should I Do When I'm There?
Buckle up, this is where things get fun. When you land on Aotea, take a minute to acknowledge that you probably bring mainland-style ideas about commerce, capitalism and general modern-life anxieties. Great Barrier Island is the place where you can let all of those go and take a real break from this culture of immediacy we all tend to live in these days. Island residents like to keep a balance between hours spent running their various businesses and methods of making a living, and recreational activities like fishing. If the fishing is good, you might find a few establishments closed despite published opening hours to the contrary.
Try to leave space for your days to unfold organically, don't plan too much – just be ready and open to go where your nose takes you and experiences will find you.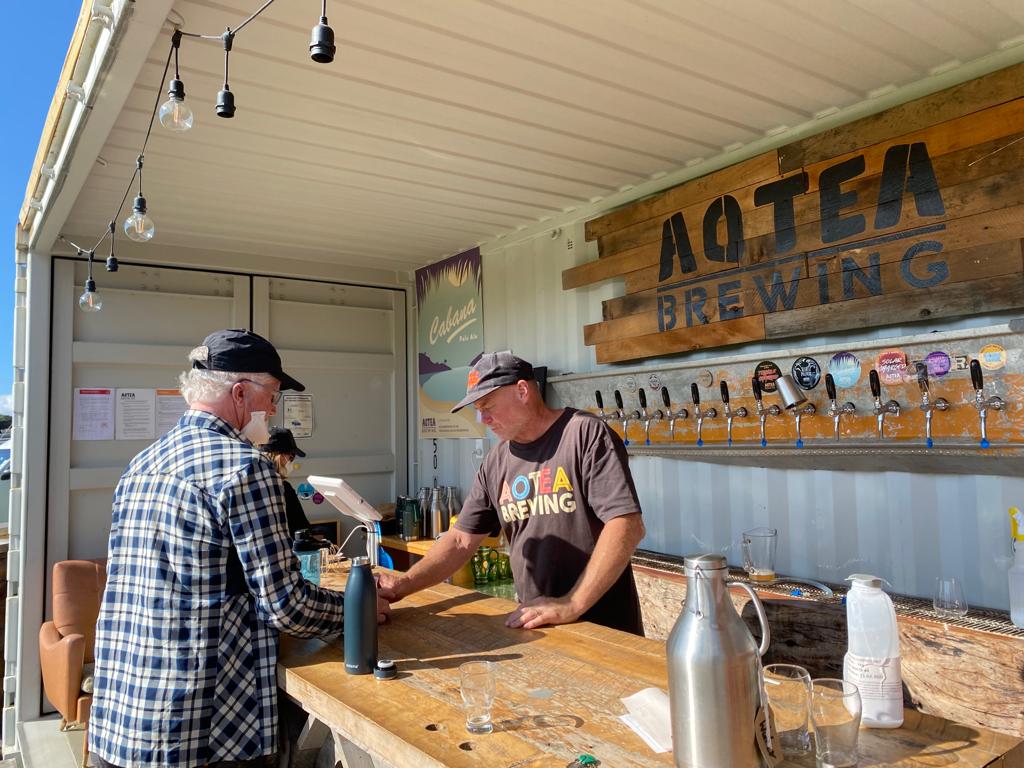 Where is the best place to eat?
This can be the trickiest thing for mainlanders to navigate when they arrive on Great Barrier Island. While there are a number of places to grab a coffee or a hot meal, or pick up groceries, it pays to research their opening hours and plan your day around that.
Many local island residents who operate food service outlets are invested in their work/life balance and often close up shop if conditions aren't just right for trading. Sometimes an establishment might be closed despite opening hours posted on the door that indicate otherwise, so always check first.
It's a great idea to bring food out with you from the mainland as a back-up, particularly if you're heading into the bush to hike or camp, and treat the island supply as supplementary only.
Grocery Stores / Bottle Shops
If you'd like to stock up on groceries, visit Stonewall Store in Tryphena or Claris Store in Claris. There is one bottle shop (alcoholic beverages) on the island and this is located in the heart of Claris, opposite Claris Store. Tryphena is also home to Mulberry Grove Store which has a great selection of groceries and does fish n' chips takeaways.
The Currach Irish Pub
The Currach Irish Pub in Tryphena is an institution and is the best place to get an evening meal. It offers consistent opening hours, delicious wood-fired pizzas and tasty dishes to suit all diners. It's a warm, homely environment and you'll feel totally at home thanks to the hospitality of the owners and the team. It's our personal favourite and we happily recommend it to you!
Bookings aren't always necessary, but as there isn't a huge amount of alternative options if the Currach is full, it's always best to be safe and reserve a table beforehand.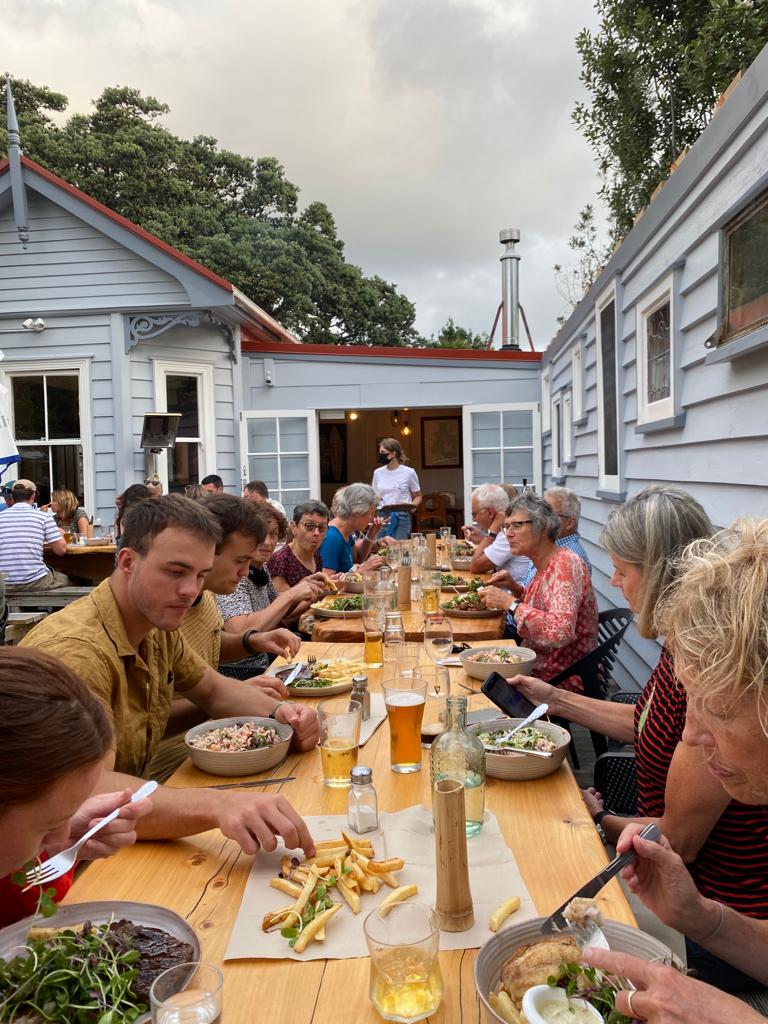 More Tips For Your Trip
Leave your hair-dryers and hair-straighteners at home. Many solar power systems are equipped to handle the amount of short-term power supply that these small appliances need.
Check your gear for pests before you go and as soon as you land. Local residents are passionate about reducing the presence of pest-species on the island, so do your bit and be the responsible, respectful traveller.
Keep an eye on the weather before you go and throughout your stay. If the weather turns bad, plan and prepare for either a delayed arrival or remaining on the island for an extra day or two until you can safely travel.
Bring a small amount of food from home, just in case. It can be easy to get caught out around the opening hours of facilities, so bring some back up food supplies to tide you over, you never know when you might need it!
Roads are often twisty, steep and narrow so if you rent a car remember to keep left and maintain a safe speed. If you meet an oncoming car at a particularly narrow section, stop, pull over and allow other vehicles to pass. Give any walkers, cyclists or runners plenty of space as you pass them too.
If you haven't visited Aotea/Great Barrier Island yet, put it on your list! It's a magical, life-changing place to visit and you'll have a fantastic time no matter what you choose to do. Come with Walking Legends on the Great Barrier Island Escape 4-day guided walk and we'll show you the very best the island has to offer.