Looking for the best North Island hikes? We've been hiking and trekking all over the North Island for 20 years and all of our North Island guided walks have been fine-tuned to include only those tracks with the most spectacular scenery, natural features, cultural and historical significance. If it's included in our itineraries, then you'll know it's 100% worth doing. You'll know when you book a Walking Legends guided walk that you've chosen the most well-designed itinerary, executed by the most-experienced, passionate hikers who love the outdoors just as much as you do.
Our guides get out and walk not only the big-ticket tracks, but all the little obscure, hidden ones as well. They're local experts and they've done the research so you don't have to!  If you're not able to join us, but you still want to see the beautiful North Island sights, here are their recommendations for the best North Island hikes!
Here's our list of absolute, must-do, best North Island hikes.
The Pinnacles Track, Thames, Coromandel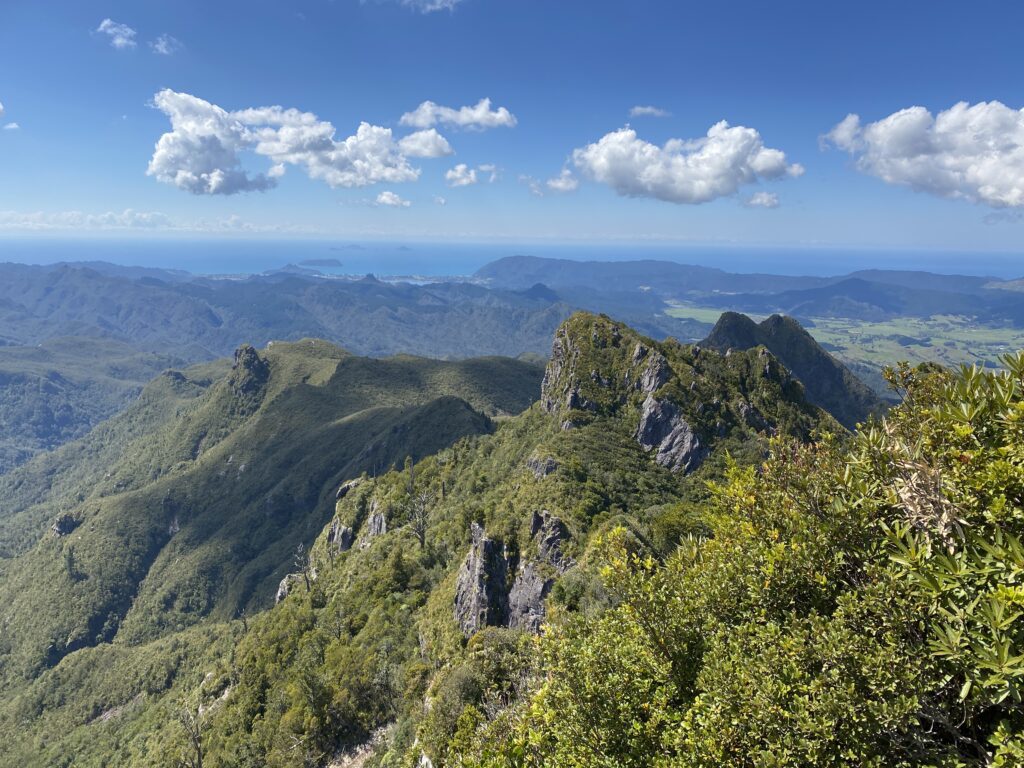 The Pinnacles Track is also called the Kauaeranga Kauri Trail. From Thames township, turn onto Banks Street opposite the Toyota factory, then make a right turn onto Parawai Road. Parawai Road becomes Kauaeranga Valley Road. Follow Valley Road to the Kauaeranga Valley Visitors Centre. Make sure you call in at the Visitors Centre to let them know what your plans are.
The Kauaeranga Valley Road is a mix of gravel and dirt for the last part, so if you're in a rental vehicle and it hasn't been graded/smoothed out for awhile, expect some roughness and corrugations.  Remember to keep to the left! The road ends at the Pinnacles track trail head, so just follow the road all the way to the end.
There are toilets at the trailhead carpark and lots of grassy spaces to sit.
How Long Is the Pinnacles Track?
Depends on how you measure it! We've walked this track with our guided walking groups on the Coromandel Explorer tour once every fortnight for the past 10 years and we've had so many different results. We'd say it's close to 15km, 30,000 steps, or 7 hours.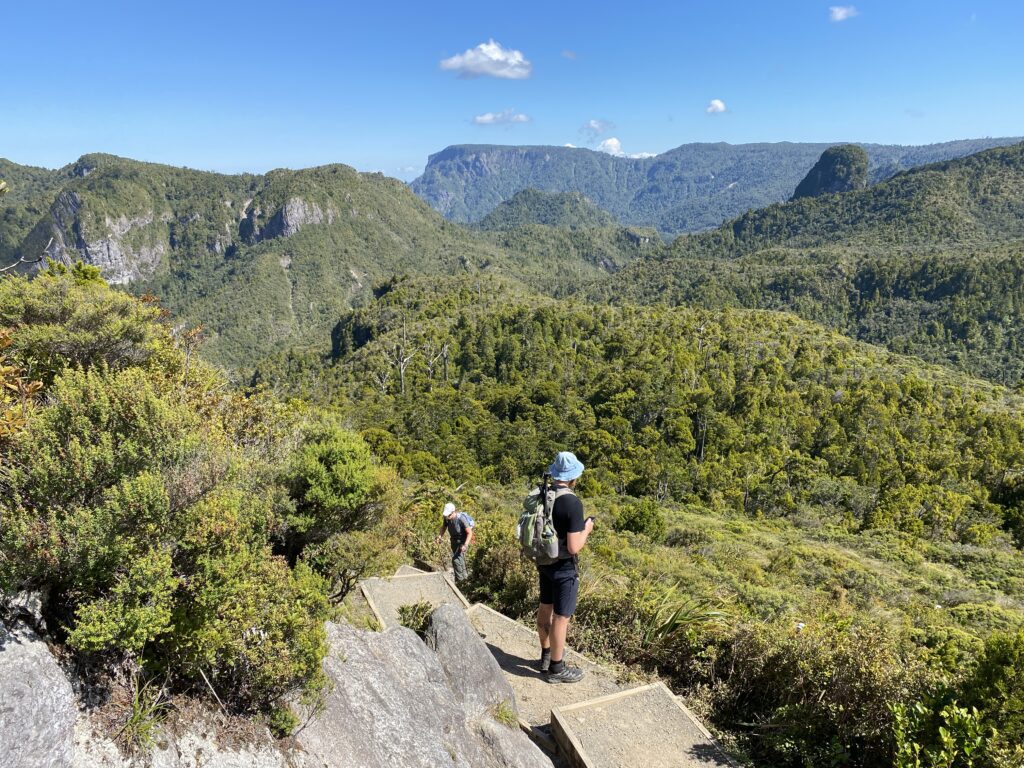 What Is the Walk Like?
This is the best day-walk within easy driving distance of Auckland, Tauranga and Hamilton. You'll journey from the valley floor, through the lush tropical Coromandel Forest Park, up to a ridgeline along the spine of the Coromandel Peninsula. In the early days of New Zealand, tracks like this one were cut into the forest to fell kauri timber for export or to install the first services, like electric power lines.
A 3-hour hike will take you through beautiful nikau palm, rewarewa and kohekohe forest, over old stone staircases built for the workers pack-donkeys and up to the Pinnacles Hut. Pinnacles Hut sits on a lower ridge below the Pinnacles peak summit proper. With 80 bunk beds, this is the largest hut in the Department of Conservation network and a very popular spot for school groups and families from nearby areas, particularly on the weekends and in the school holidays.
You can rest here at the hut or take the extra 30 minute trail up a network of steep, timber stairs to the most exciting part of the walk! A network of ladders and steel rungs drilled into the rock faces take you up to the top of the Pinnacles rock formations and mind-blowing 360° views of the Coromandel Ranges, Tairua township and the Pacific Ocean.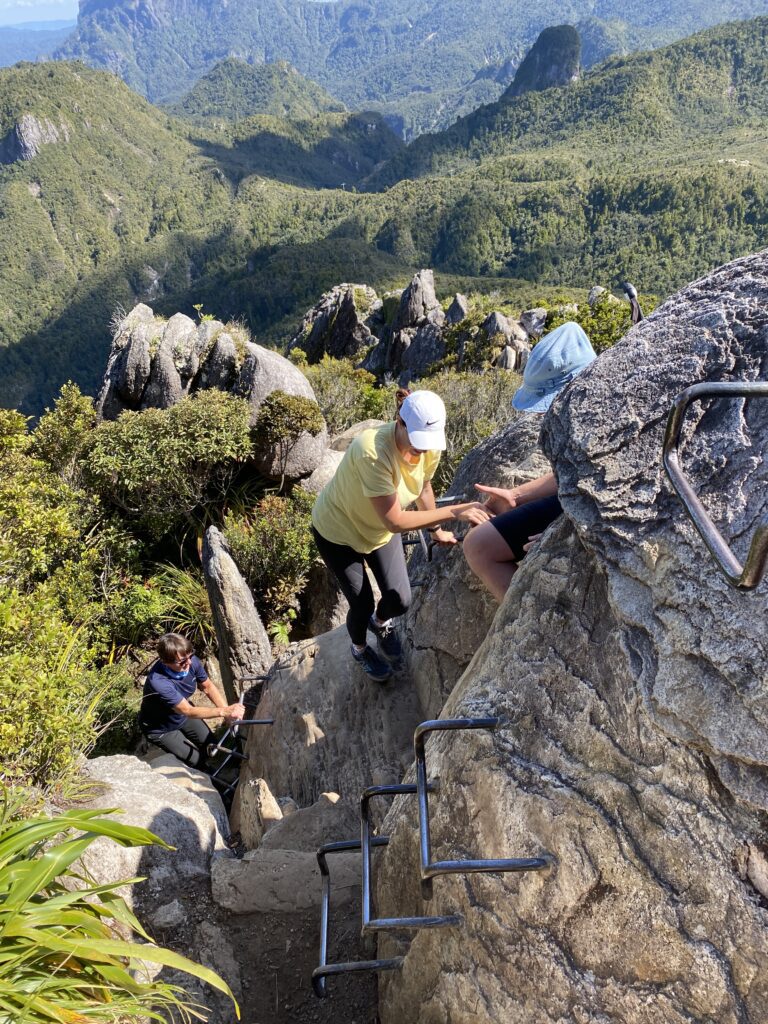 WHAT MIGHT SURPRISE YOU
In some areas, the track underfoot is composed of lots of small boulders, almost like rock-hopping at the beach. You'll be working a very different part of your calf and shin muscles than you're probably used to.
The view from the top showcases just how deep and broad the forest is in the centre of the Coromandel Peninsula. You'll then begin to understand that most visitors who spend their time on the beaches, haven't even scratched the surface of this amazing area.
To maximise your experience, join us on one of our 4-day Coromandel Explorer guided walks. We'll make sure you see everything you need to see in the Coromandel while you're with us, in the most efficient and enjoyable way! It's an all-inclusive package, so we take care of all the hard stuff, all you have to do is show up. Yup, that's the food, accommodation, transport and guide provided for you. You can even borrow hiking gear from us, absolutely free.
Lake Waikareiti Track, Lake Waikaremoana, Te Urewera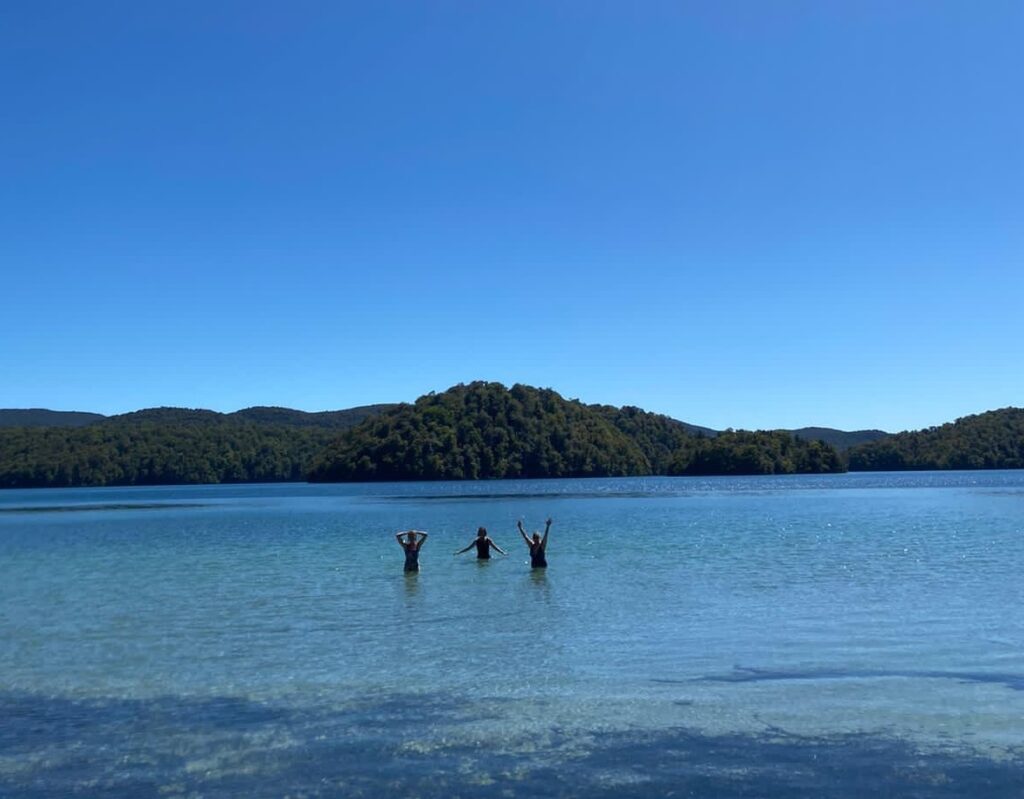 How To Get To the Lake Waikareiti Track, Te Urewera
Now this walk is super remote. We recommend you join a guided walk, like our 4-day Waikaremoana Discovery Tour so you can have the safety and security of a group around you.
We have, hands-down, the best guided walk of Lake Waikaremoana. You can get there 2 ways. From Rotorua, take SH38 'The Rainforest Route' through Murupara. Stop in Ruatahuna at Te Tii Café for a coffee, then carry on around the lake towards Te Karetu/Home Bay.
The trail head and carpark is right on the roadside just before SH38 crosses the Aniwaniwa Bridge.
There are no toilets at the trailhead, the nearest toilets are around 100m away on the intersection of SH38 and Aniwaniwa Road. These aren't serviced regularly so take toilet paper with you.
How Long is the Lake Waikareiti Track?
The track is roughly 3.3km and takes around an hour to reach the lake shore. You can continue on from there around to Sandy Bay Hut to spend a night if you like. It's a slightly shorter hour for the very gentle descent back to the carpark, so plan for a 2 – 2.5 hour walk, including lunch stop and water breaks.
What Is the Walk Like?
The quality of the forest here is unparalleled. It's ferny, lush and the understory is really healthy. Expect to encounter lots of different birds like kererū, kākā, tomtits and North Island robins. Kererū in particular, feature from August to December when the kōtukutuku / tree fuschia is flowering.
The track climbs really gently up to Lake Waikareiti. Waikareiti is around 300m higher than Lake Waikaremoana, but the track is so even you barely notice your ascent over time.
Once you reach the lakeshore, stop for a bite. There is an enclosed day shelter, but no bathrooms so please toilet responsibly. There is also no access to drinking water at the day shelter. It's not a good idea to refill drink bottles from Lake Waikareiti, we recommend you take 1 – 2 litres, per person, with you.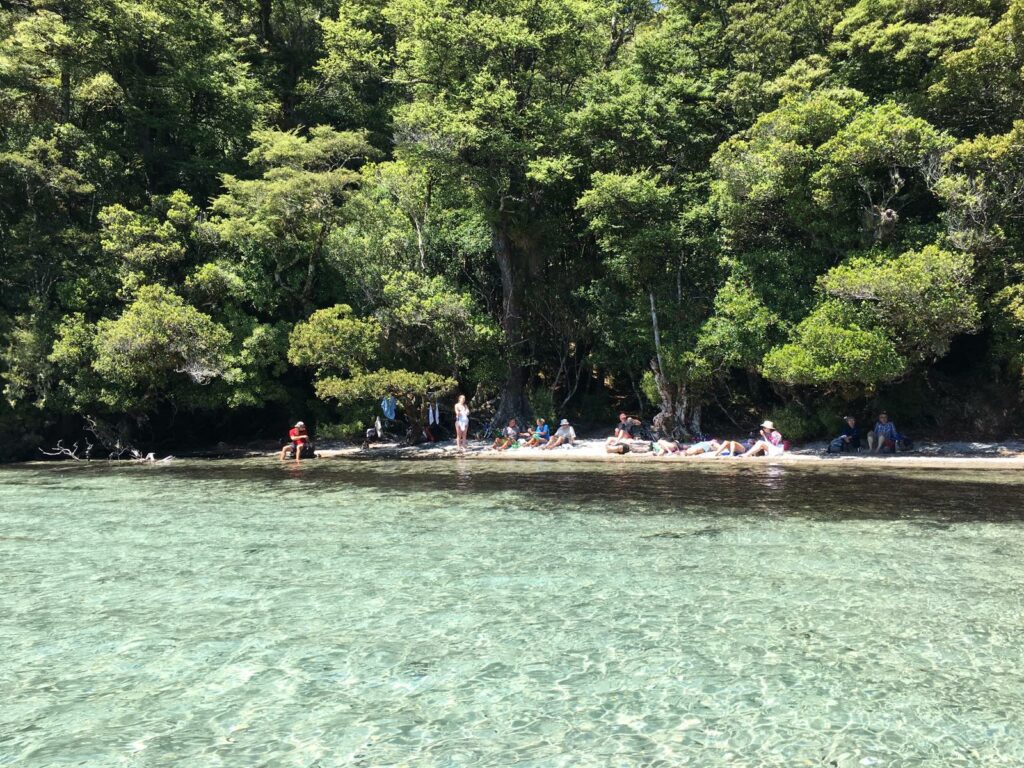 WHAT MIGHT SURPRISE YOU?
In the middle of Lake Waikareiti, is Rahui Island. On Rahui Island there is another lake. That's a lake on an island, on a lake! The name Rahui means 'forbidden', which is a bit ironic as it's the only island in the area that you are allowed to walk on.
Lake Waikareiti is inaccessible by boat, so the water remains blissfully clear of pest plants like aquatic weeds.
Old Coach Road, Ohakune, Ruapehu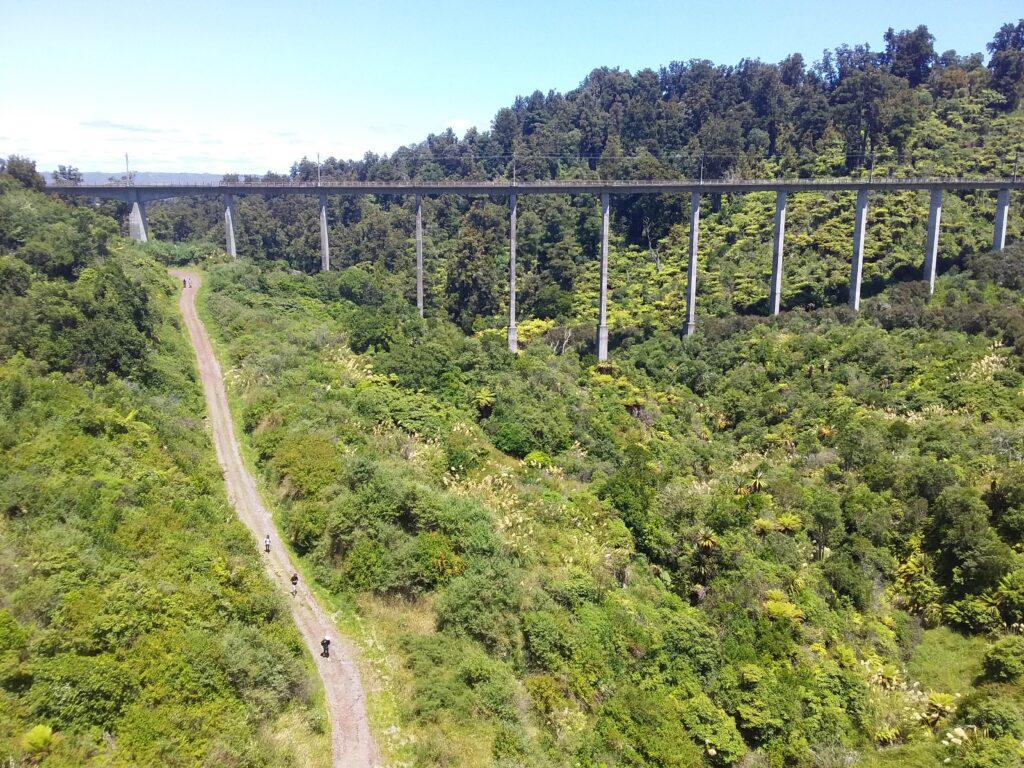 This walk is really easy to access. It's an end-to-end track, not a loop, so you can start either at Smash Palace, Horopito or at Marshalls Road in Ohakune. It's a dual-use trail, so if you're hiking, keep an eye out for mountain bikers. We recommend starting at the northern end, near Smash Palace in Horopito, then you'll be walking downhill most of the way.
You wanna take SH4 south from National Park Village to Horopito. Make a left turn onto Matapuna Road and the entrance to the trail head is only 10 – 20 metres past the turn-off. There's a short section of gravel road that will take you down to the trailhead carpark. It's usually well-formed and maintained, suitable for all vehicles. Park up and walk down to the timber gateway.
What's the Walk Like?
The track gently undulates along the south-western foothills of Mt. Ruapehu from Horopito in the north to Ohakune in the south, taking in sweeping green farm-views of the horticultural plains surrounding Ohakune. It's not a difficult track, there are no difficult, highly technical sections, it's a nice, easy-going day walk.
The most spectacular feature of the walk is the story behind its' creation. The track pays homage to the engineering genius and shows what kind of structural feats early pioneers performed when building the main trunk railway connecting Auckland to Wellington in the early 1900's. Remnants of early steel viaducts remain, towering over your head on a scale that dwarfs you!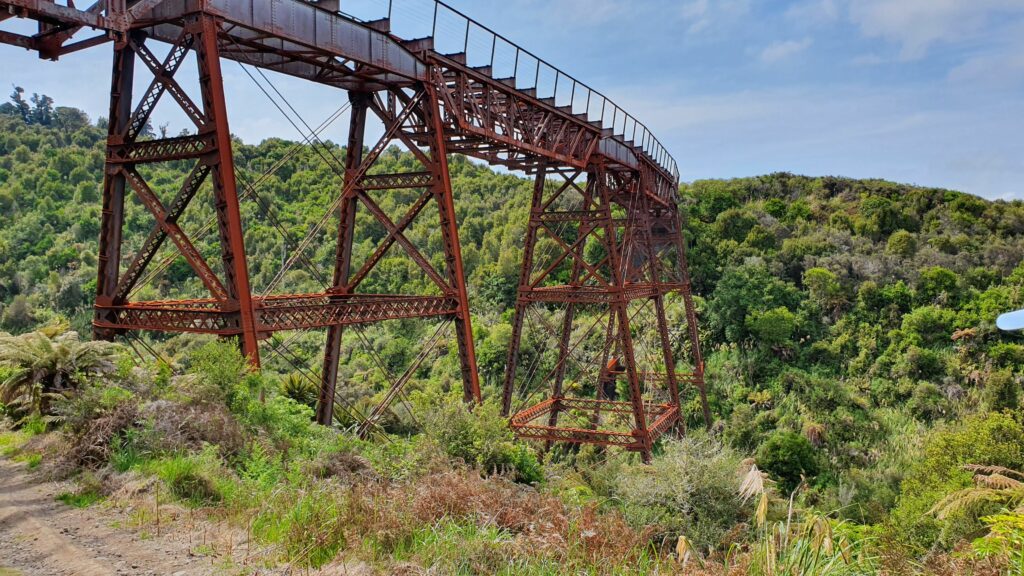 WHAT MIGHT SURPRISE YOU?
The Old Hapuawhenua Viaduct sits right alongside the New Hapuawhenua Viaduct and if you're there around lunchtime you'll see the cargo train service come through for a nice juxtaposition between old engineering and new.
Don't skip the side-trail that takes you through the abandoned tunnel! It's quite safe to walk through and is a spectacular feature.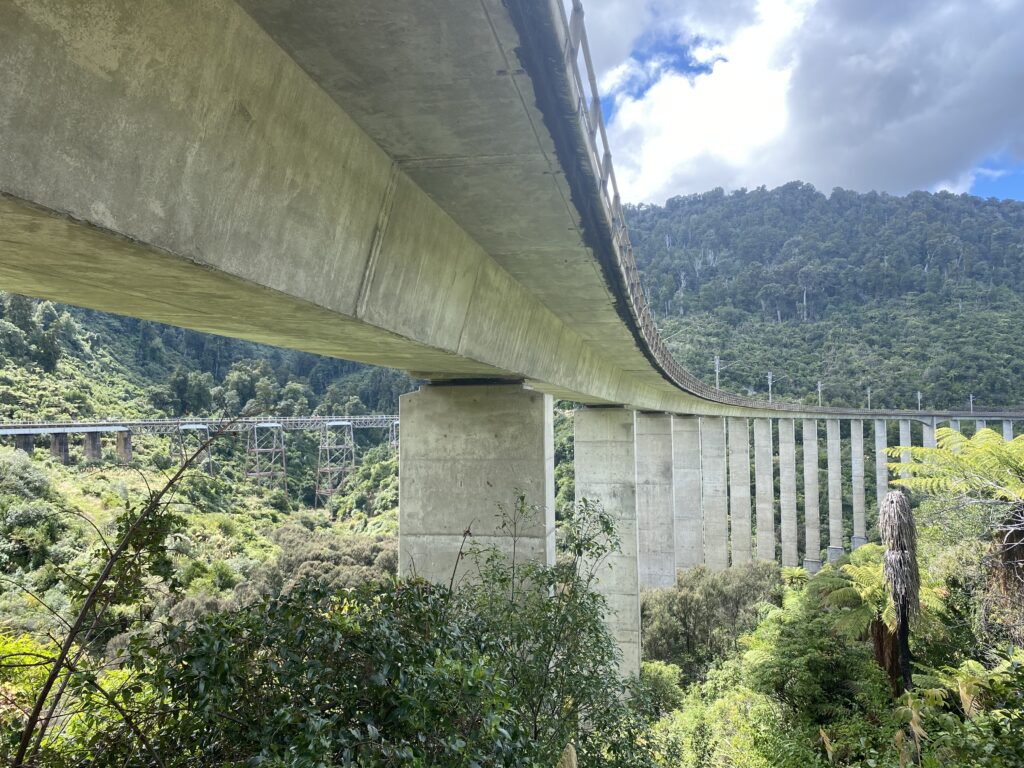 To experience this walk with an expert guide and a fun, like-minded group of outdoorsy folks, join us on the 3.5 day Tongariro Hiking Tour. We have a list of scheduled departure dates across the summer hiking season, posted on our website. We like to keep our groups small, so we can still learn each others names, you'll be walking with anywhere between 8 – 12 people, plus 2 guides.
Whether you prefer to walk solo or with friends, please adventure responsibly. Tell someone where you are going and what time you plan to be back. Wear good quality clothing and take warm clothing and extra food and water with you. Remember to toilet responsibly – move 50 metres away from any water source and bury your waste. Take on photographs and leave only footprints. We encourage you to follow the Tiaki Promise – a code of conduct and care for your time in the New Zealand outdoors.
Happy hiking!
The Walking Legends Team
0800 925 569