OVERVIEW

ITINERARY

ACCOMMODATION

IMPORTANT INFO
Check Dates for Lake Waikaremoana Guided Walk
Journey deep into New Zealand's last frontier, a land cloaked in mist, mysticism and primordial forest. This unique North Island Great Walk offers a chance to get amongst true wilderness whilst also exploring unique, indigenous culture! It is a hut-to-hut hiking expedition, circumnavigating beautiful Lake Waikaremoana, with secluded beaches, fascinating history and truly breathtaking views.
Join a small, fun group or bring your own crowd
4 days / 3 nights all-inclusive New Zealand Great Walk experience
4-7 hours hiking each day over varied terrain on formed trails
Our purpose-built support boat transports most of your gear
2 days carrying a day pack only, 2 days carrying a small pack
Includes: fantastic meals, snacks and drinks; return Rotorua transport; support boat; hut accommodation; sleeping bags, backpacks and raincoats; experienced and caring guides
Note: no alcohol is served on this trip folks, due to the spiritual beliefs of the local people. We are also making an effort to eliminate single-use plastic, so please be conscious of what you are bringing with you.
Looking for a more comfortable way to see Lake Waikaremoana? Check out our lodge-based Waikaremoana Discovery Tour. 
Not sure which Lake Waikaremoana guided walk is best for you? Our team explains the main differences in this short blog post, here.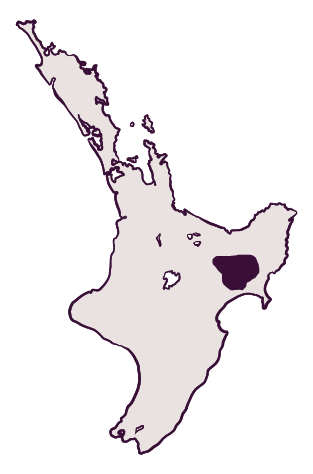 "Walking in Waikaremoana was truly an amazing experience! It is a perfect trip for someone who wants to get into the wilderness but needs a support team."
A breathtaking journey through time Journey deep into New Zealand's last frontier, a land cloaked in mist, mysticism and primordial forest.
We'll collect you from your central Rotorua accommodation between 7.30am and 8.00am.
Your Lake Waikaremoana Great Walk experience begins with a scenic drive from Rotorua, following one of New Zealand's oldest Māori trails. Journey through remote villages and dense rainforest, into the heart of Te Urewera and Lake Waikaremoana, the North Islands deepest lake. In te reo Māori, Lake Waikaremoana is the 'sea of rippling waters.'
Walk alongside a peaceful estuary, home to a variety of water birds, before we catch our first glimpse of the lake itself. The trail gently climbs over headlands, around bays and across the many inlets that form the shore of Lake Waikaremoana. We'll cross a headland where a Kiwi Recovery Programme is successfully increasing the numbers of our threatened national icon.
Arrive at Waiharuru Hut to a hot drink and hearty meal prepared by your guides. Tonight listen out for the night time calls of the North Island brown kiwi and the morepork/ruru.
This is the longest day of walking, but you'll still have plenty of time to enjoy the bush, birds and lovely beaches of the western arm of the lake. We'll cross more headlands, bays and inlets where you can make the most of the many scenic lakeside and lookout spots for rest and refreshments. Some hardy souls may even indulge in a swim! After lunch, there's an option to explore the 45 minute side trail to Korokoro Falls. These stunning falls are worth the detour!
The Te Urewera forest is home to many native and endangered birds. You are likely to witness the aerial flight dynamics of the pīwakawaka/fantail, the thunderous wingbeat of the kererū and hear the melodious calls of both the korimako/bellbird and the tūī. Occasionally we are treated to sights of kākā and our unique, whistling blue duck, the whiō. Waiopaoa Hut, nestled amongst the lush rainforest that stretches to the lake edge, is our home for the night.

Today we tackle Panekire Bluff, which has been dominating the landscape ahead for the last two days. Plenty of rest stops and breathtaking views make today's climb an enjoyable challenge. Hike through different layers of vegetation: from mixed broadleaf podocarp forest featuring giant rātā, rimu and miro trees; to enchanted cloud forest of silver beech trees cloaked in eerie mosses, which dominate the higher altitudes.
At the close of the day, relax on the verandah of the beautifully situated hut, and soak up the panoramic vistas right out to the ocean. Watch the sunset over the lake below and forest clad mountains in every direction. This birds-eye view gives us a chance to reflect on and appreciate the remarkable terrain we have covered over the last few days.
Our unique geographical position means we are among the first in the world to welcome the sun as it rises over the east coast this morning! Today, we continue our journey along and down Panekire Ridge, where breaks in the forest cover offer more magnificent views and fantastic photo opportunities from the colossal rocky outcrops that form the mountain ranges. Look out across Onepoto Bay to see the evidence of the landslide that created Lake Waikaremoana over 2,000 years ago.
We wrap up this fantastic Great Walk experience with a celebratory BBQ lunch and cold drinks on the lakeshore. We'll have you safely back in Rotorua between 5 and 6pm.
Classic New Zealand backcountry huts, located in stunning natural surroundings. They are clean and dry, and provide fresh drinking water, bunk beds with mattresses, outside toilets, separate dining and communal areas, and heating. There is no electricity or hot water. A booking system ensures no overcrowding. The isolation and lack of mod-cons create a very special and social atmosphere for hut-goers!
If staying in a hut isn't your cup of tea, check out our lodge based Waikaremoana Discovery Tour.
We supply
Generous, nutritious meals full of fresh, local produce; hearty cooked breakfasts, fresh packed picnic lunches with the best sandwiches you've ever eaten, plenty of trail snacks & medicinal chocolate; fresh fruit, hot & cold drinks.
Return transport from Rotorua in air-conditioned vehicles with enclosed luggage trailers.
Toilet paper, soap & hand sanitiser.
Fitted single sheets for hut mattresses.
What else do you need to know?
Our Menu: We have a pre-set menu for our evening meals. Everything is freshly prepared in the hut kitchens by your guides. Evening meals are 2-course, Kiwi style, with plenty of fresh veggies and salads. 

Specialty diets; we can cater for a wide range of food allergies and specialty diets with sufficient advance notice. Please let us know at the time of booking if you have specific dietary needs and we'll work out if there's anything in particular you need to bring with you.

There are no drying rooms available in the huts, but there are plenty of wide, covered verandahs for drying wet gear.

Sorry, the use of drones is not permitted.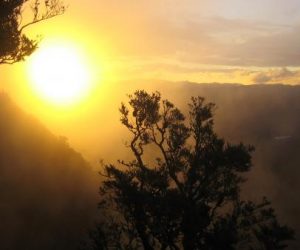 I suffer from terrible car sickness, what will the roads be like?
Good question! In general, the roads we travel are…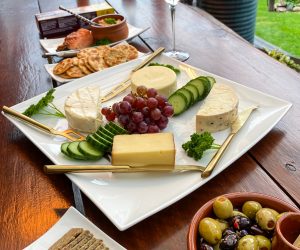 Specialty Diets – Can You Cater For Me?
Absolutely. We are happy to accommodate guests with specialty…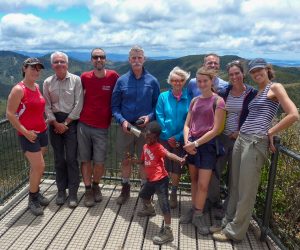 Should I Bring Something Nice To Wear In The Evenings?
It's nice to have something clean to change into…